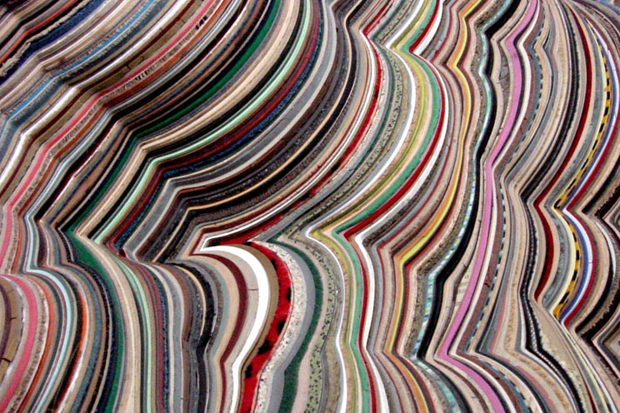 Thomas Heatherwick - Designing the extraordinary
Designer of the Shanghai UK pavilion, new London bus and a cute bendy bridge opens first retrospective at V&A
Proof, if we really need it, that Thomas Heatherwick is one of the UK's greatest living designers will be on show at the Victoria & Albert Museum for the next four months. Heatherwick Studio: Designing the Extraordinary, part of the London 2012 Festival, is the talented creative practitioner's first major solo exhibition, and features a huge array of projects conceived by the designer and his dedicated studio over the last two decades.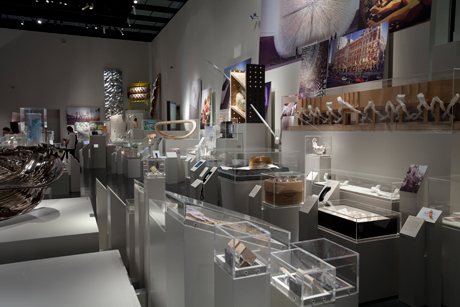 On display are over 150 objects. There's the small stuff: handbags, chairs, tables, even an original seed-tipped rod taken from the Seed Cathedral, Heatherwick's career-defining UK Pavilion at the 2010 Shangai World Expo. And there's larger works, too, including a full scale mock-up of the rear end of the new London double-decker bus, nestled in one of the gallery's corners; not to mention a site-specific piece consisting of upside-down traffic cones painted white, menacingly poised above one of the V&A's main entrances.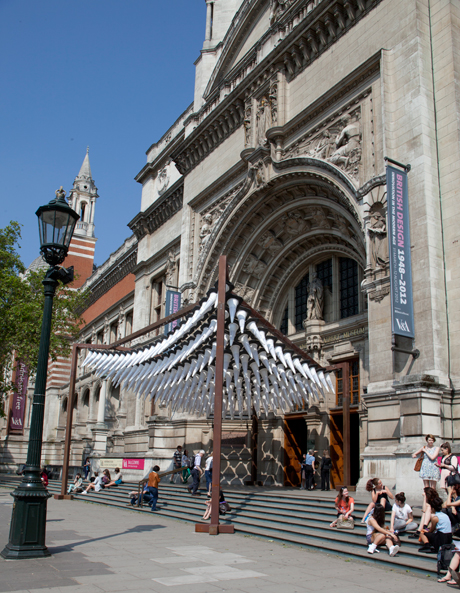 But perhaps most interesting are the various photographs, maquettes, model prototypes and material fragments on show, that help contextualise the designer's finished work. Rarely are we offered such an insight into a creative studio's process – its initial concepts and early attempts; its curiosity for materials and fabrication. Here, though, supporting objects are presented in a series of "conceptual clusters" that illustrate the "interrelation of ideas throughout the studio's work." It's a refreshing, behind-the-scenes look at an inspirational figure's way of thinking.
Heatherwick was born in London, in 1970. He studied three-dimensional design, first at Manchester Polytechnic, then back in the capital at the Royal College of Art, before establishing Heatherwick Studio in 1994 off the back of a commission to design a temporary shop front for the renowned Knightsbridge department store Harvey Nichols (for which he won a D&AD Yellow Pencil). Since then the designer has followed through on his initial ambition to "bring architecture, design and sculpture together within a single practice," creating everything from sculptural aluminum furniture (Extrusions, 2009), to low-cost studios (Creative Business Units, 2008). Despite origins as a furniture designer, it's Heatherwick's architectural works that have brought him international attention – the aforementioned pavilion, his ongoing Teeside Power Station project, and the brilliant Longchamp store interior in New York, particularly.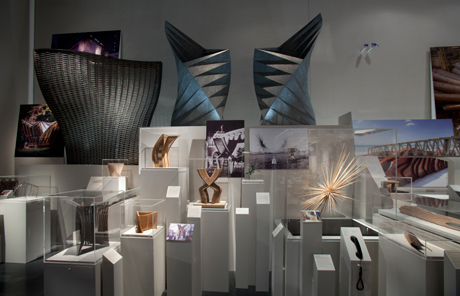 Now his studio, utilising all of that previously acquired interior design knowledge, has designed its own exhibition. Situated in the V&A's Porter Gallery, the show spans myriad design disciplines: furniture, sculpture and product design on one hand, architecture, transport and urban planning on the other, the variety testament to an individual happy to bring the same consistent rigour and unbridled ethusiasm to all projects, no matter whether their eventual outcome be a chair or a bridge, a fashion store or a seaside cafe. This is a "forward-thinking contemporary designer," V&A director Martin Roth says, "constantly challenging us with his ideas and pushing boundaries in art and design."