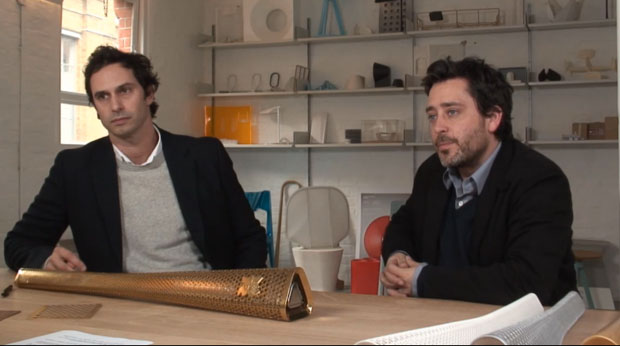 The Olympic Torch and the story of British design
Jay Osgerby, Ed Barber, Kenneth Grange and Thomas Heatherwick reveal inspirations in new video
Although Ed Barber and Jay Osgerby's insight into the design of the Olympic torch - its 8,000 holes to reflect the 8,000 runners, its three sides to denote the three times the Olympics have been held in London and the revelation that it's been tested at speeds of 75mph in a BMW wind tunnel - are the initial things that might stick in your mind watching the video below, it's the notion of a "passing of the baton" as each generation of British designer pays his or her respects to the one before that really warms our hearts here at Phaidon.
Commissioned by the V&A museum as part of its British Design 1948-2012 Innovation In The Modern Age exhibition (running until August 12) a succession of our favourite designers - among them Kenneth Grange (responsible for Kodak cameras, the Inter City 125 and er, the dreaded parking meter), Paul Neale, Andrew Steven and Thomas Heatherwick (designer of the new Routemaster bus) each namecheck and acknowledge the debt they owe each other as British designers.
"Designers are working behind the most important companies in the world now and I think it doesn't matter where you go in the world you'll find a British designer working there, whether it's in architecture, industrial design, fashion design or graphics. We are everywhere," says Ed Barber as he and design partner Jay Osgerby discuss their award-winning torch and British design as a whole.
There are insightful, occasionally touching nuggets from the designers themselves on their own work such as how Margaret Calvert based her children crossing road sign on an eight-year-old version of herself, and how Heatherwick put himself in the mindset of a disabled person when designing the new London bus. Great exhibition, great video.