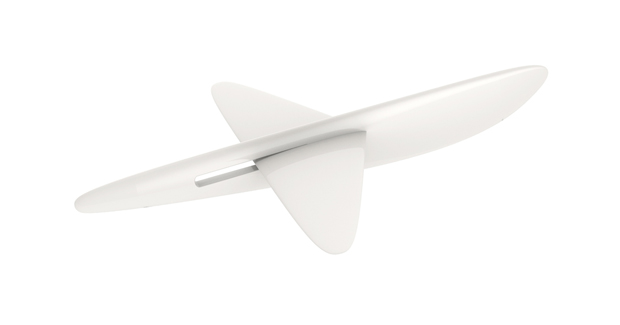 Air France's flying cutlery
Eugeni Quitllet playfully redesigns the French flag carrier's knives, forks and dishes
While it's generally wise to discourage children from playing with their food on a long flight pretty much anything (short of flinging potatoes at the people opposite) goes to keep the little ones quietly entertained. Air France seems to have embraced this notion, and briefed Eugeni Quitllet accordingly.
Since the beginning of the month, the airline's long-haul passengers have been using new and improved cutlery at meal times. Quitllet, an Ibiza-born designer who works out of Barcelona and Paris, has come up with three versions, all of them equally innovative regardless of whether they're destined to be use up front or everywhere else in the aircraft.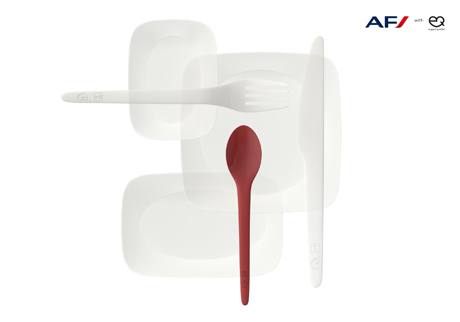 First class passengers get a conventional set in metal; those in premium economy use the same set but in plastic; and kids get all the fun with an interactive blister-pack set. As well as a knife, fork and spoon, there are three wing-like plastic triangles, with slithers sliced out of them. This allows the 'wings' to be fitted into the narrow rectangular slots cut out of the handles of the cutlery. And hey presto, a plane is formed. "For children the goal was to transform the cutlery into a toy," Quitllet says. "Something that you can keep and play with long after your meal."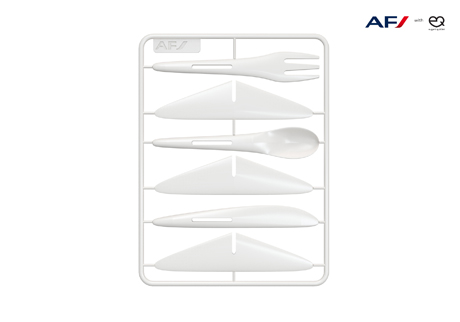 The collection as a whole borrows from the aerodynamic nature of the means of travel. Quitlett has also added function to form, by making the cutlery 30% lighter than the previous range. Every gram counts on an aircraft, and Air France estimates that this flatware will be used for 14 million meals a year. The children's pieces are such a delight that passengers might well even pack them up, meaning that Air France won't even have to do the clearing up. Find out more about this here.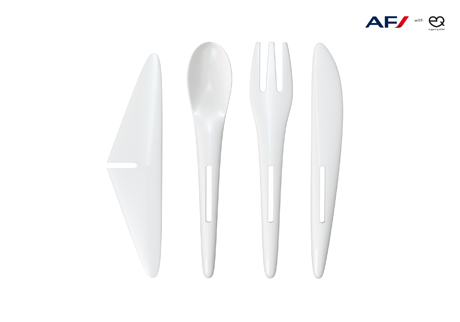 For greater insight into enduring works of product design, take a look at our new Design book, which profiles 500 products still in production, from the earliest days of the industrial revolution, right up until now. Read an interview with its editor Joe Pickard here or just go ahead and buy the book from the people who made it.