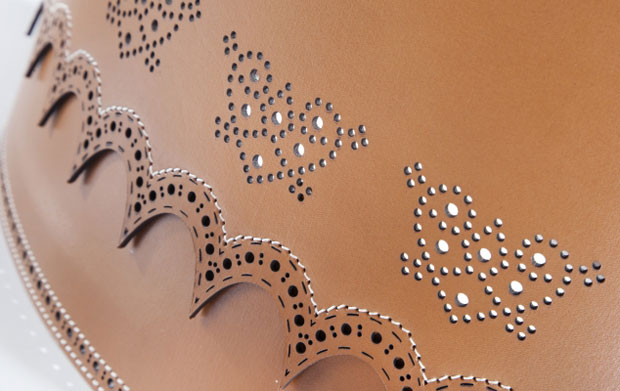 Dancing on the ceiling
Daniel Schofield's Brogue Light for Deadgood plugs into English autumn winter style
Even when there's a trend for materials to become increasingly high-tech, ingenious use of those old favourites wood, leather and stone never goes away. Daniel Schofield's leather lampshades are a good example. The Brogue Light, made for up-and-coming Newcastle upon Tyne- and London-based, design company Deadgood, features the sort of machine stitching found on a decent pairs of lace-ups, but Schofield eschewed traditional shoe-makers in favour of laser-cutting.
"I was really interested by the history of 'broguing' and the roots it has in British culture," explains the designer. "The detailing was beautiful and the craft involved caught my imagination."
The cylindrical pendant light lets the rays seep out through the puncture patterns "much in the same way that water would have originally passed through the shoes when crossing wet terrain", Schofield adds.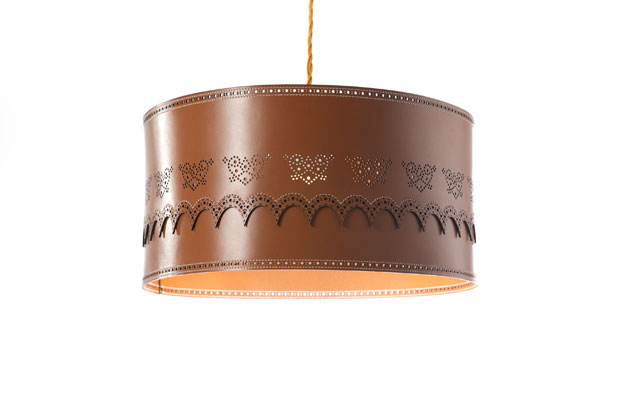 Schofield is riding a fashion wave at the moment, brogues are everywhere for autumn winter, from Savile Row to Topman, via Ben Sherman. The designer, who's based in Sheffield, where he studied furniture and product design, only graduated two years ago, but he's already got a pretty healthy portfolio. As well as Deadgood, his pieces are stocked in half a dozen or so retailers, including Heals in London, which has his What a Corker Mirror.
Deadgood's founders Dan Ziglam and Elliot Brook, meanwhile, have built a business out of nurturing young design talent, designing pieces themselves, and having it all made in the UK. Creatives to have benefited from Deadgood's philosophy include Lee Broom, Max Lamb, David Irwin and Vicki Leach, among others.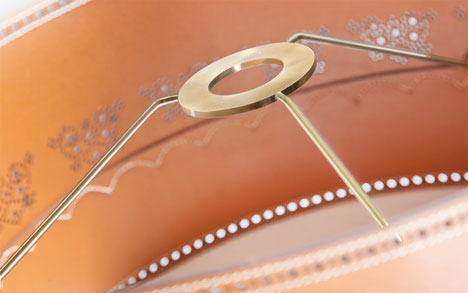 You can learn more about both iconic, cutting edge and downright quirky designs that have stood the test of time in our new title The Design Book. Whether you're keen to kit your home out in genuine Wilhelm Wagenfeld door handles, browse for Wassily chairs in Berlin flea markets, purge your office of naff nick-nacks, or are anxious to have a good story to tell when friends comment on your Swiss Railway Wristwatch, you'll find something to please you among the 500 pieces discussed in depth. Learn more about The Design Book here.