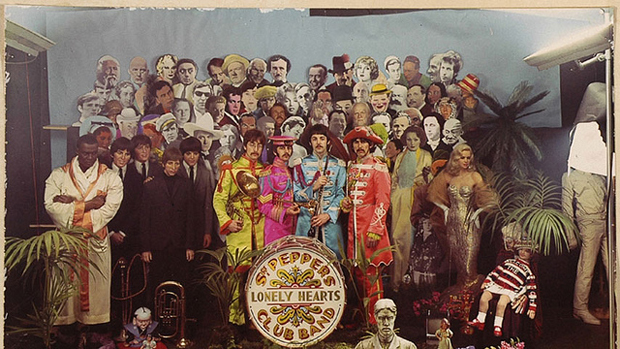 Sgt. Pepper's only dye-transfer print up for sale
Rare Beatles cover image goes on the block in London this month as part of Christie's photography sale
Fans of both The Beatles and vintage photographic techniques might want to take a look at lot 68 in the Christie's London sale at the end of this month, when the only known dye-transfer print of the image used on the cover of The Beatles Sgt Pepper's Lonely Hearts Club Band album goes on the block.
The photograph, overseen by band and the artists Peter Blake and Jann Hanworth, was shot by British rock photographer Michael Cooper in London in March 1967. Haworth, Blake and Cooper managed to fit in many famous names into the shoot, including Marlene Dietrich, Diana Dors, Bob Dylan, Marilyn Monroe, Sigmund Freud, Lewis Carroll, Karl Marx, H. G. Wells, Marlon Brando, Stan Laurel and Oliver Hardy - all in cardboard cut-out form, of course. The only 'real' people in the cover were the Beatles. Such a detail is hard to discern in the the many fourth or fifth generation cover images over the years, but easy to make out in the dye-transfer copy.
While the album has gone onto sell millions of copies around the globe, there is, according to Christies, only one dye-transfer print in existence. This printing process, favoured by commercial photographic firms as well as fine-art photographers such as William Eggleston, is an expensive business, renowned for its high fidelity and colour contrast. So, is the snap worth £40,000 to £60,000, as the auctioneers estimate? Well, Michael Cooper died in 1973, and Kodak ceased to make the dye transfer products in 1994, so the chances of another one coming onto the market is about as likely as a Fab Four reunion. Fans with cash to spare should perhaps consider the investment. More modest pop enthusiasts might want to browse our Archive of Graphic Design. This comprehensive survey of visual design features 500 graphic images (including the record cover).