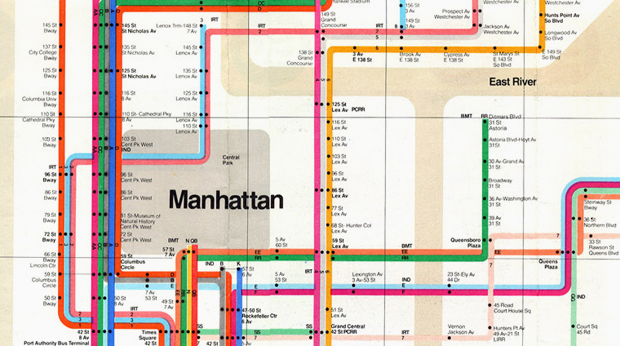 Massimo Vignelli's NYC subway map is reborn
The Italian designer and Michael Beirut discuss the origins of a design classic
Anyone with a penchant for map design was at The Transit Museum in Brooklyn last night where the Italian designer Massimo Vignelli and critic Michael Beirut discussed Vignelli's famous and controversial New York City subway diagram, designed in 1972 and used on the transport system until 1979.
The Vignelli map, still widely regarded as a design classic, was quite bold in its disregard for the city's geography, and was junked at the end of the seventies, in favour of a design by Michael Hertz Associates, which is more or less still in use today.
However, the Vignelli map has recently been reinstated, albeit virtually. The old map served as the basis for The Metropolitan Transit Authority Weekender app, which illustrates the city's limited weekend subway service. Vignelli, along with his design partners Beatriz Cifuentes and Yoshi Waterhouse, discussed the map's demise and reincarnation. If you didn't make the talk we'll be bringing you a report later on. Until then, take a look at our Archive of Graphic Design, which contains a copy of the Vignelli map, or watch this clip, wherein Vignelli explains why he thinks he should have ignored New York's geography more, not less.