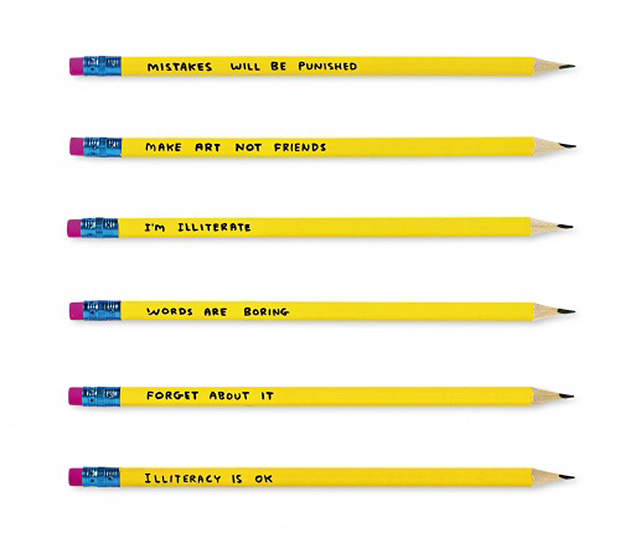 Have you seen David Shrigley's cheeky pencils?
The British artist produces 30 new products - including an iPad case, notebooks and other stationary
David Shrigley delights in undermining the highbrow aspirations of art and advertising, with images and texts that are silly, abject and entirely human. So, when he was invited to weave his work into the products of an international high street retailer, nobody expected any lofty, motivational slogans, even if the organising principle of the collection was "strong messages."
"Our Danish designers have been working with Shrigley on a series of funny – almost absurd – everyday items with the theme "Strong Messages"," says Flying Tiger Copenhagen (formerly known as Tiger).
The British artist's answer was to combine quirky line drawings with satirical, subversive capitalized slogans. He has worked his magic on a variety of items from notebooks to sticking plaster.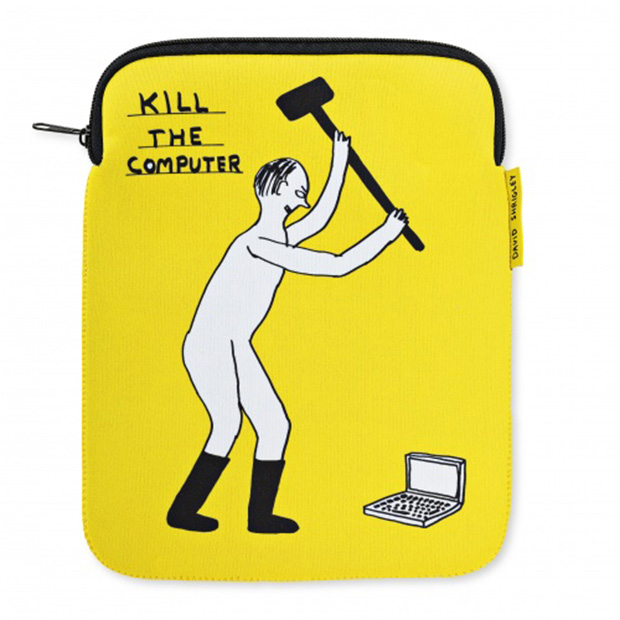 Stripy socks have an invitation to Eat My Sock on their soles; brightly coloured iPad covers feature naked workers and read "We hate meetings" and "Kill the computer". A metal box of pencils is decorated with a sinister-looking blue cat with its tongue sticking out. Meanwhile some fuchsia bathroom scales have a lovely a pair of elephants on them.
"The nice thing about working with Flying Tiger Copenhagen is that they make things that everybody can have," says Shrigley says. "They are very humble as objects and I kind of like the humility of those artworks. It is about reaching a very big audience with art objects and for them to be very accessible. You don't want it to be an exclusive thing. You want it to be a democratic thing."
The chain's pricing is ludicrously low, which helps with its loftier intentions for this range. "Flying Tiger Copenhagen wants to give you access to art and design that opens your eyes and stimulates your imagination," they say. And they also put a smile on your face.
For more great graphics from the advent of Gutenberg's printing press right up until arrival of the iPad, order a copy of The Phaidon Archive of Graphic Design, here.