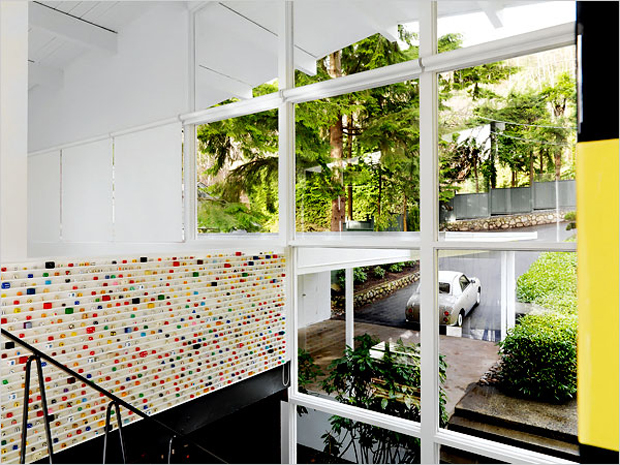 Douglas Coupland channels Damien Hirst
The Canadian writer's second career as an artist is revealed in these photos of his second home and studio
Though he is best known as a novelist, Douglas Coupland originally trained as a sculptor and designer, and has been quietly building a second career in this area, exhibiting works since 2000. In March he exhibited at the Armory Show in New York, and he's just finished work on a public sculpture in Ottawa commemorating Canadian fire fighters. He is represented by Vancouver's Monte Clarke gallery, also home to Alison Yipp, Derek Root and Graham Gillmore.
When Vancouver-based architectural photographer Martin Tessler visited Coupland's second home, a mid-century detached house directly in front of the author's primary residence, he found Coupland had channeled Damien Hirst's dot-painting-and-pill-cabinet aesthetic, with a wall thread spools and a display case of dice. The house also sports original artworks by Roy Lichtenstein.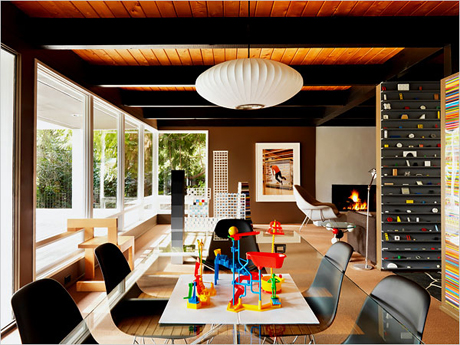 The house is a renovated mid-century property sitting directly in front of his other residence. You view the full series of photos on the NY Times site here. See how many mid-century design classics you can spot. Feel free to use Phaidon Design Classics as a reference.