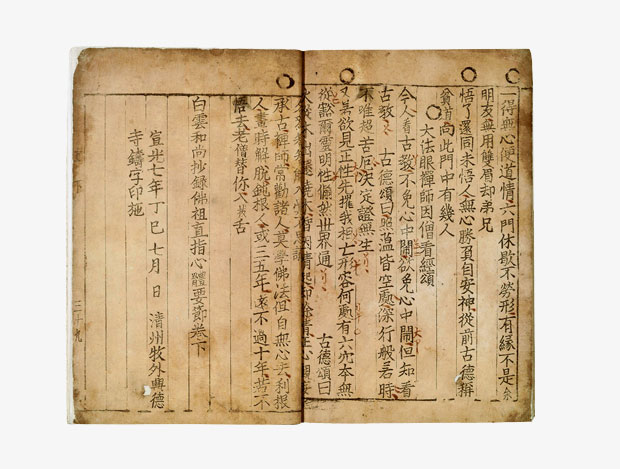 When the east was centuries ahead of the west
How books as we know them came to be - as told in The Phaidon Archive of Graphic Design
The Phaidon Archive Of Graphic Design consists of 500 works created since the beginning of mechanical reproduction, featuring books, corporate logos, radical posters, magazines and adverts, all of which have added aesthetic uplift to the world in which we live, whatever their purpose. However, these are not presented in book form but rather as a series of cards, stored in a handsome box, containing an image of the work on one side and explanatory text and supplementary illustrations on the other. These are ordered chronologically but can be ordered any way the owner pleases, with bindings included for alternative categorisation. It not only contains beautiful things, it is a beautiful thing in itself.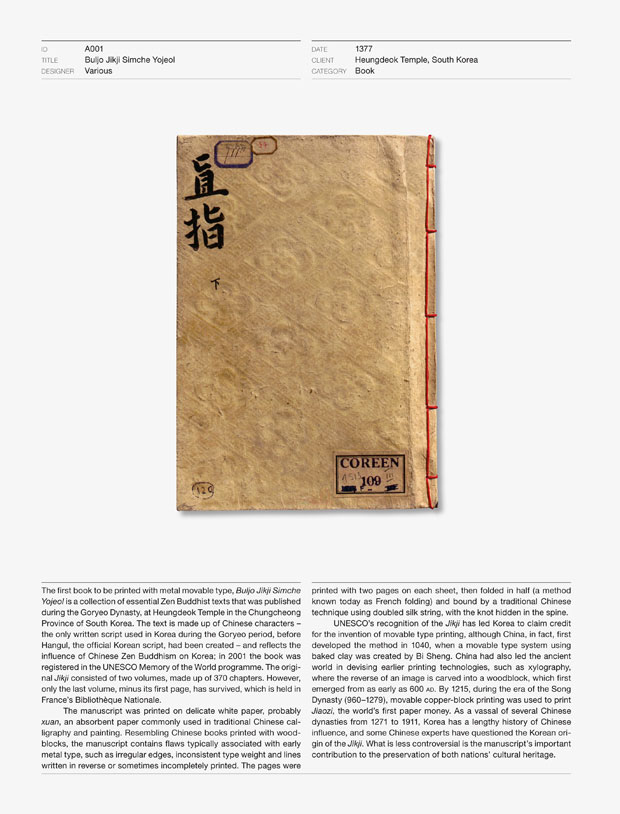 Let us look, then, at the very first item in this vast but select history of graphic design, a work which predates the Gutenberg Bible and the Nuremberg Chronicle. It dates back to 1377 and is the first book to be printed with metal movable type. Buljo Jikji Simche Yojeol is a collection of essential Zen Buddhist texts, published during the Goryeo Dynasty in South Korea. The pages were printed with two pages on each sheet, then folded in half (a method known today as French folding) and bound by a traditional Chinese technique using doubled silk string, with the knot hidden in the spine.
Printed on a delicate, white paper, this text contains small flaws reflecting the teething troubles of early metal type, including lines incompletely printed and irregular edges. It is, however, quite fascinating to behold, and led South Korea to claim credit for the invention of movable type printing. Except, it seems, the story goes back even further. In China, one Bi Sheng had developed a system of movable type using baked clay as early as 1040, while by 1215, moveable copper block printing was used to print Jiaozi, the world's first paper money. Some Chinese experts even question if the Jikji is even Korean in origin. What's certain, however, is that in this innovation, the East was centuries ahead of the West.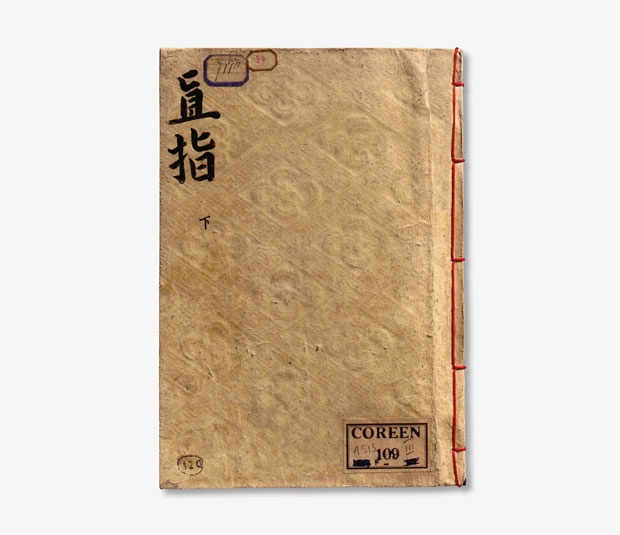 If you're keen to find out more about graphic design then watch our editorial director Emilia Terragni introduce the Phaidon Archive of Graphic Design here. Buy the Archive from the people who made it, here.