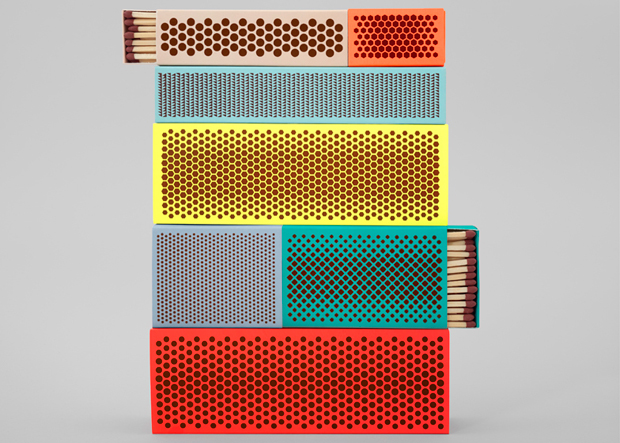 The humble matchbox gets a makeover
American and Swedish husband and wife team pool their considerable talents for Danish furniture brand Hay
Young Danish furniture brand Hay made a splash last year with its Bouroullec-designed chairs and tables for Copenhagen University. For its latest project, the company has changed scale, ditching seating and storage in favour of something hand-held.
It commissioned American product designer Shane Schneck and Swedish graphic designer Clara von Zweigbergk (a husband and wife team based in separate studios in Stockholm) to design matchboxes.
Called Strike, these boxes of your standard wood and coated paper come in seven different sizes, and are in tasteful northern European tones. The nifty design element is the use of the red phosphorus ink that the match heads are struck against. The two designers have created a selection of repeating box patterns in the ink.
"The common matchbox is used almost exclusively for advertising, while the intricate red phosphorus pattern along the sides are secondary to the advert. Strike honours the activity of creating a flame," says Schneck.
They're so good-looking as a set we're tempted to add them to that ever-growing crowd of stackable geometric sculptures on our work desks. More innovative and overhelmingly excellent examples of branding through the ages can be found in the Phaidon Archive of Graphic Design.