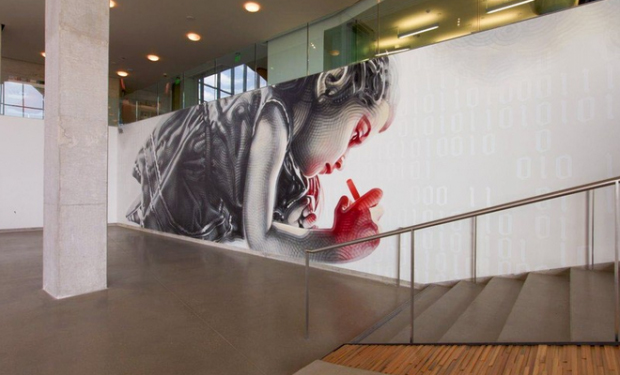 Adobe HQ designed by artists using its own software
New Utah HQ features graphic images created by Adobe software nestling alongside murals created by street artists El Mac and Mike Giant - obligatory indoor basketball court and rock-climbing wall included (of course)
When it comes to exuding a firm's brand values through its workplace interiors, designers are really coming into their own. Google has employed a string of them to create on-brand offices, including Scott Brownrigg, Penson and Jump Studios. Virgin Atlantic's Gatwick revamp had a helping hand from Checkland Kindleysides, and all over Europe Microsoft has overhauled its spaces, each one by a local agency.
Because, as designers like to tell their clients, for companies who want their staff to positively ooze their mission statement, it really helps if their work environment is giving off the same message. Naturally, it's also a good way of attracting more talent. To this end, Adobe has gone as far as commissioning a whole new campus in Utah, tasking San Francisco architects and urban planners WRNS Studio with the master plan, and Rapt Studio – also San Francisco-based - with the interiors.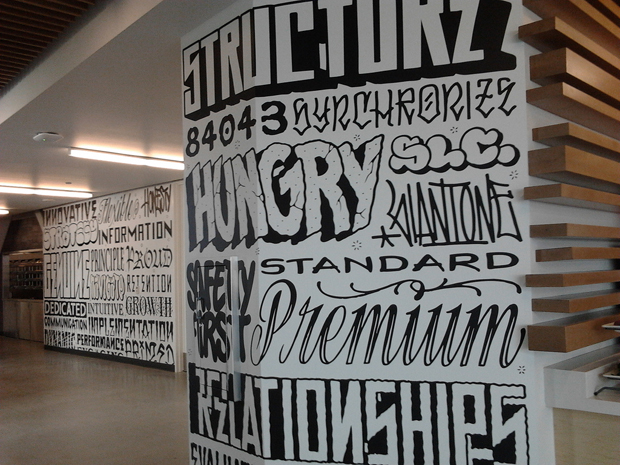 This is a big and important job, as 1100 of the software firm's staff are moving into the four-floor cutting-edge building. And it certainly looks inspiring, with graphic images created by internationally-recognised artists using Adobe software, and murals created by the street artist El Mac and Mike Giant. And of course for a high tech business, there's the almost obligatory indoor basketball court, rock-climbing wall, games room and gym.
CEO and design principal of Rapt Studio David Galullo explains their involvement, employing a few much-loved branding terms in the process: "We were brought in as an agent of change to showcase Adobe's existing culture and magnify it through workplace design, drawing upon the company's roots in creativity and innovation to fuel the space. By aligning the interests of Adobe's customers, employees and leadership, we were able to create a space that is the gold standard for integrated workplaces. Design should solve ongoing challenges, inspire unparalleled performance and connect people and places in a meaningful way." No doubt Adobe's staff will share these sentiments. For the ultimate in graphic design statements through the ages there is, of course, no finer resource than the Phaidon Archive of Graphic Design.