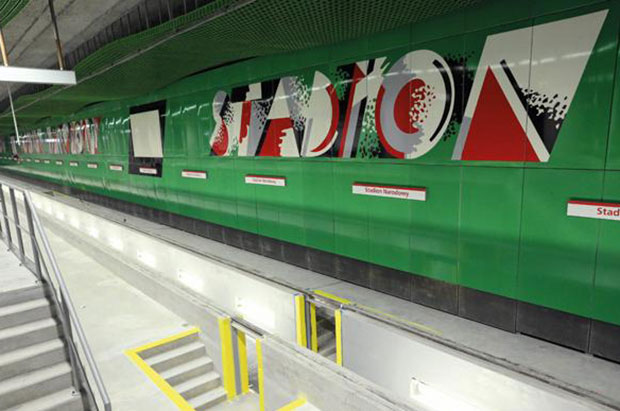 Op artist creates eye-popping metro signage
Legendary Polish Poster School founder Wojciech Bangor returns to public art at the grand old age of 92
Metro and subway passengers around the world are used to delays, but in Warsaw they've been waiting two decades for a new metro line. Hopefully travellers of the new east-west line will think it's been worth the wait, as the walls of the underground stations are newly adorned with artwork and signage by one of Poland's most respected poster designers.
Wojciech Fangor rose to prominence after WWII, and is the only artist from his country to be honoured with a solo exhibition at the Solomon Guggenheim Museum in New York. He was in his early 70s when he got this station commission. Now 92, the project is being billed as Fangor's long- very long-awaited return to the world of public art.
The artist, who has switched styles a number of times over his career from impressionism and abstraction into realism, has come up with a psychedelically manic use of colours for the seven stations' lettering. The uppercase letters themselves are angled to give the impression of a train's movement, and are a fusion of abstract and pop styles on a (mercifully) plain background.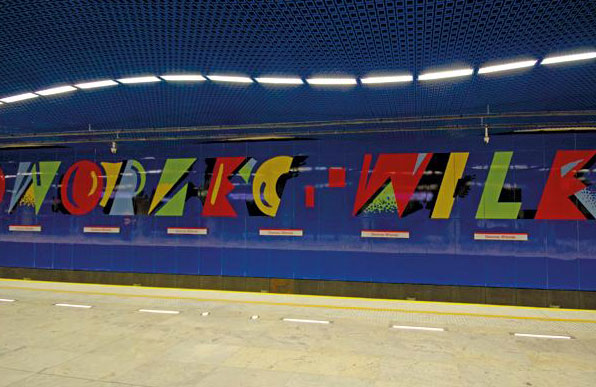 The thinking behind the designs has deep roots. Fangor co-founded the Polish School of Posters, and from 1953-61 he designed around 100 posters and created numerous drawings for the daily newspaper Życie Warszawy.
He was also an abstract painter, graphic designer and sculptor, and in the mid-1960s he taught at the Bath Academy of Art in the UK. He immigrated to the US in 1966, where he became a leading representative of the up-and-coming Op art movement. To say that his station signage has met with a mixed reaction from Warsaw's citizens is an understatement. Some seem to prefer their commute to be a little less, shall we say, visually overwhelming. For more graphic inspiraton check out The Phaidon Archive of Graphic Design, and our book on the undisputed king of signage Otl Aicher.