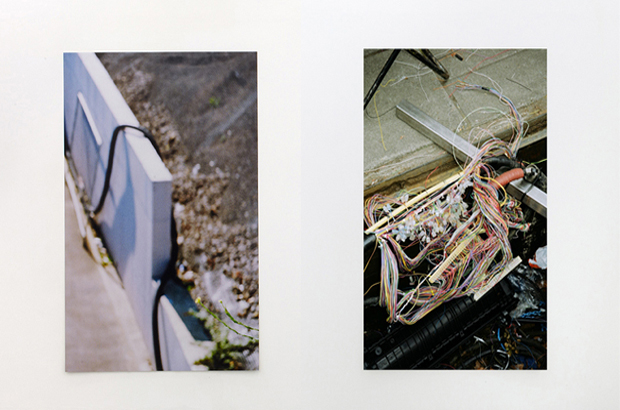 Bruno Zhu's big look at the ordinary
The Portugese photographer's constructed images are printed big to give the normal a sense of grandeur
"I have a penchant for the 'normal'", photographer Bruno Zhu notes, explaining his latest photographic series Grass Warm Trifecta. "I explore ordinary surroundings, searching for emerging patterns and situations." Portugal born, London-based Zhu's pictures are bold and immediate. They're big, too - printed at an unapologetically imposing scale that falsely suggests grandeur in subject matter - but when he refers to his pictures dealing with 'ordinary surroundings' he really means it. Grass Warm Trifecta features an up-close mix of discovered still lifes – a collection of everyday items (household plants, office-standard window blinds, a mess of discarded wires) and casual encounters Zhu's translated into what curator Vanessa Carlos describes as "very deliberate, constructed images."
Despite their scale, Zhu's pictures are surprisingly serene -- an intriguing mix of loud and quiet. Carlos, one half of London gallery Carlos/Ishikawa, where Zhu's works have recently been on show, agrees. "Bruno works in many different series and creates incredibly powerful images," she explains, obviously happy to have just provided the young image-maker with a tangible showcase for his work. "But they all carry the same effortless, instinctive ease. His photographs never lose their sense of immediacy, but are never fussy. I think that's very rare.
"The exhibition was a great curatorial conversation. The curators and I met several times to prepare the show, but every time we did we ended up having massive talking sessions during which we'd share personal ideas on photography and image-making. The final selection of images was made in a similar way. We would frequently email, and in a ping-pong manner, a group of photographs emerged."
Carlos/Ishikawa's handling of Zhu's exhibition is representative of the gallery's general intention. "We want to provide a platform for young artists that provides all the support of a commercial gallery," Carlos explains, "but one that allows artists' experiments and developments to continue as freely as possible." Currently representing four young artists – Oscar Murillo, Ed Fornieles, Mary Hurrell and Lloyd Corporation (they've naturally come to develop relationships with "artists working with a multi-disciplinary approach") – the gallery will also show Pilvi Takala, Steve Bishop and Donelle Woolford later this year.