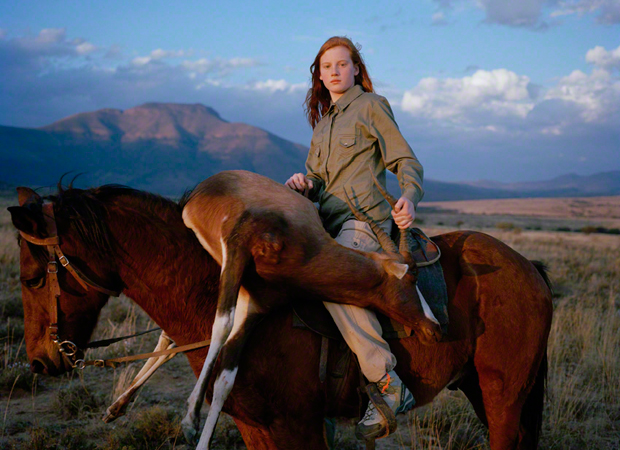 Calling the shots: the man every aspiring photographer wants to impress
Phaidon.com talks to Terence Pepper, Curator of the Taylor Wessing Prize at London's National Portrait Gallery
The Taylor Wessing Photographic Portrait Prize is open to any photographer over the age of 18, providing a chance for the work of amateur and emerging photographers to be exhibited alongside those of the professionals. Phaidon.com spoke to Terence Pepper, Curator of Photographs at the National Portrait Gallery, which co-ordinates the prize, about what goes on behind the scenes for this international competition, what he really thought of the shortlist and a day in the life of a photography curator.
Q: What makes the Taylor Wessing prize stand out from other photographic portrait prizes?
The exhibition really is a touchstone for contemporary photographic portraiture around the world. All portraits entered for the competition must have been taken in the past year, and we change the judges every year to keep the exhibition fresh. The longevity of the competition - it has been going for almost 20 years - has also contributed to its high profile. It was established in 1991 as the John Kobal Photographic Portrait Prize, then in 2003 for three years it became the Schweppes Photographic Portrait Prize and the following two years, the National Portrait Gallery Photographic Portrait Prize (2006 and 2007) and, since 2008 the Taylor Wessing Photographic Portrait Prize.
Q: Talk us through the processes that go into pulling together an exhibition such as this one. Do you hunt down entries or wait for them to arrive? How many do you usually receive? And how do you go about choosing which to include, and how to hang them?
The Call for Entries for the competition opens in June or July each year and the judging takes place in August ready for the exhibition in November. For the past few years the judging has taken place at London College of Communication in Elephant and Castle and this is where the prints are delivered. This year we received nearly 6000 entries from over 2,400 photographers. The judging takes place over two days and we whittle the prints down from 6000 to 200 to 60, and then select the winners. It's a very big task. This year the competition was judged from original prints by photographers Harry Borden and Jillian Edelstein, Lucy Davies, Photography Critic for The Telegraph, our Director, Sandy Nairne, Rodney Dukes from Taylor Wessing, and myself. We always try to get a mix of a practioners, academics, writers or representatives from other arts organisations. This mix ensures that different viewpoints are included in the judging process.
Q: David Chancellor's Huntress with Buck took first prize this year. Which of the other works particularly stood out to you and why?
The second and third prize winners by Panayiotis Lamprou and Jeffrey Stockbridge were both equally striking in their different ways, but part of the interest of selecting the best entries for the show is tapping into the diversity of styles, approaches and subject matters. For instance, Ingar Krauss' hand-coloured study of the mute Dresden girl footballer provided a sharp contrast to Enda Bowe's study of an Irish teenager in a pink playboy-styled setting. Amy Helene Johansson's Unsafe Journey was a remarkable example of a photo-journalistic image in complete contrast to the complicated agenda taken on by Steven Barritt's self-portrait in a Britney Spears-obsessive's bedroom for his work, The Solitude of Pygmalion.
Q: Who do you most admire in the world of photography today and why?
I think one looks out for outstanding images by a wide range of photographers and there are many exceptional images produced each year but finding totally consistent creators of outstanding images is quite a difficult call to make.
Q: Any up-and-comings we should be looking out for?
The next best picture is always the one we haven't yet seen so keep a look out in all the visual media and what gets through into next year's competitions. Ali Lomas, winner of the 2009 Godfrey Argent Award (presented to a photographer under the age of 25) and ELLE Commission (which offers a chance to shoot a feature story for the magazine) is someone we hope to work with in the future. Ali had just graduated and was really excited to win both awards. It's important for us to try to work with and raise the profile of young photographers and to hopefully give them a step up on establishing a career in photography. I'm also hoping to work with Claire Pepper, who featured in the 2008 exhibition.
Q: How did you get involved with the National Portrait Gallery?
After leaving university having studied law I wanted to change direction and find a job in the arts. I did a postgraduate course in librarianship and my first job was in an historical picture library. After a year there a job as librarian came up at the National Portrait Gallery so that's how I got my foot in the door, and after 3 years I was able to move across to the Photographs Department; then in its infancy! I'm passionate about people and photography, past and present, so this is a dream job for me. I curated my first exhibition in 1978 to celebrate the centenary of E.O.Hoppe and thirty or so years later I'm now assisting another curator, Phillip Prodger of the Peabody Essex Museum, to stage a more comprehensive show of his work for the 21st century.
Q: Describe an average day in your job.
Very few days are the same except for the amount of stress and concentration required dealing with a multitude of challenges. Planning exhibitions and displays, interacting with the public and fellow curators, answering emails and trying to keep ahead and meeting deadlines are all regularly in the mix with lots of unexpected items added in.
Q: Is there an exhibition that you've been involved with that you would say was seminal for your career?
My first major exhibition was the Norman Parkinson 50 Years of Portraits and Fashion which was held in 1981. It took up most of the ground floor and had people queuing up to the top floor for tickets in an age before we hit on the timed ticket experience. The exhibition had a really major impact in establishing Parkinson's reputation with an audience outside the realm of Vogue, and started the market in his print sales that Hamiltons Gallery later successfully managed. Icons of Pop in 1989 and, more recently, Beatles to Bowie: the 60s exposed were hugely popular music-inspired shows drawing record crowd numbers of visitors to the Gallery. In terms of numbers my Cecil Beaton: Portraits show was the most successful, closely followed by Vanity Fair: Portraits which introduced a wide range of historic and contemporary photographers to a wider audience.
Q: Is there one image from this year that will stand out as a marker for you for 2010?
I think I would chose an image from the Jason Bell project, An Englishman in New York, as a key marker for this year. We worked on this with Jason from its inception, both of us having the idea separately to celebrate the cultural cross-over with Brits doing well in New York. It was a very successful show, we added an interesting body of works to the collection and saw his book sell in large quantities through our shop and elsewhere.
Q: What is coming up next at the NPG?
Our current exhibition Thomas Lawrence: Regency Power and Brilliance, is being followed in February 2011 by Hoppe Portraits: Society, Studio and Street, a major photographic exhibition celebrating the range and diversity of a German-born British photographer who excelled as a portraitist in the early years of the twentieth century before becoming a pioneering photo-journalist in the 1930s. His work will be complemented in another survey show which opens in March 2011 dedicated to the pioneering woman photographer Ida Kar (1908-1974).The NPG acquired her very extensive archive a few years ago and the exhibition will help to re-evaluate the reputation of a significant British-based international photographer who specialised in photographing artists in their studios and other key figures of the 1950s and 1960s including Giacometti, Braque, Le Corbusier, Jacob Epstein, Stanley Spencer, Bill Brandt and Bridget Riley.
Terence Pepper, thank you.