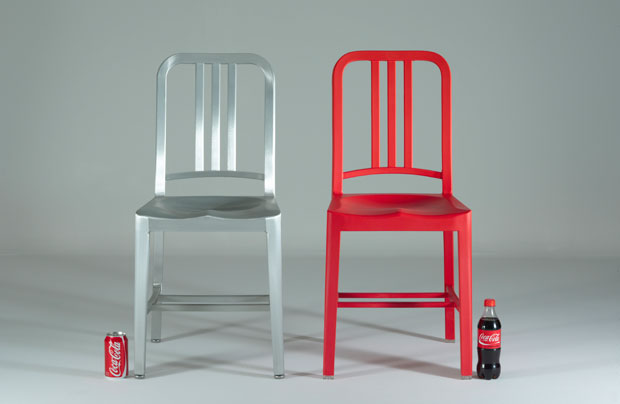 Emeco's Coca-Cola chairs grace green chemical co
BASF employs recycled plastic Coca-Cola bottle chairs - as featured in Vitamin Green - for new eco-makeover
You'd probably agree that it's pretty hard for any company that manufactures construction chemicals, polyurethane, industrial coatings and which works in the fields of mining, oil extraction and textile processing to be in any way green. But earlier this month it was revealed that the US-based chemical giant BASF had given its headquarters an eco makeover, which included kitting it out with the recycled 111 Navy Chair , made out of the very coke bottles and cans the company helps to produce.
This pricked up our ears for a number of reasons, not least because our forthcoming sustainable design book, Vitamin Green , showcases the meeting of those two iconic designs - Emeco's original Navy Chair remade from recycled Coca-Cola plastic bottles.
Since its humble beginnings in 1944, Emeco has sold more than a million of its original 1006 (ten-o-six) aluminium Navy Chair. Designed for the US Navy it enjoys a cult following among designers as varied as Philippe Starck and Sir Norman Foster. The Coca-Cola version uses 111 Coca-Cola bottles, reinforced with glass fibre to aid rigidity, and recycles them into a chair with the same form as the 1006. (though whether it can stand a torpedo blast – one of the design parameters of the original – is not known).
Other eco features at BASF's New Jersey-based HQ include a foundation constructed with a concrete that requires less energy to produce with insulation that comes from a polyurethane spray foam, and an outdoor patio built from a porous pavement that allows water to flow through naturally. A coating on the roof and windows reflects the sun's rays to control temperature. "Teaching visitors how BASF's products work is an important aspect of the new building," says Fried-Walter Muenstermann, executive vice president of BASF. 'With this Innovation Centre, and using as many products as possible for our new HQ, we can actually demonstrate that the chemicals produced by BASF have a certain function."
For more on the Coca-Cola Emeco 111 Navy chair and other groundbreaking, contemporary examples of green design and architecture make sure to pre-order Vitamin Green in which you'll find details of over 100 innovative buildings, landscapes and products.