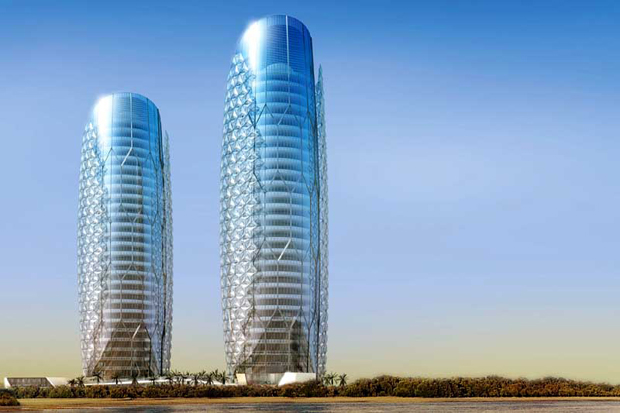 Abu Dhabi's sun sensitive twin towers
Al Bahar Towers marry old and new technology in a clever and culturally appropriate way
We must admit, our eye was initially drawn to these cocoon-like towers in the Persian Gulf purely because of their unusual shape. However, closer inspection reveals that they are in fact an innovative and technically far-reaching feat of sustainable engineering.
The searing heat in Abu Dhabi obviously means that shade and air-conditioning are two of the key elements of any new build, with the latter obviously eating up energy. Traditionally, middle-eastern buildings would use a technique called mashribiya, where complex wooden-lattice screens reduce heat from the sun. With 25 stories to protect, Aedas architects came up with an innovative take on the traditional screening technique for the Abu Dhabi Investment Council's HQ.
The south-facing roof of each tower incorporates photo-voltaic cells, generating approximately five percent of the total required energy from renewable energy sources. A solar-responsive dynamic shading screen further decreases solar gain. In this case the 'Mashrabiya' acts as a secondary, moveable skin that mediates daylight and reduces glare. The system is driven by renewable energy derived from the photo-voltaic panels.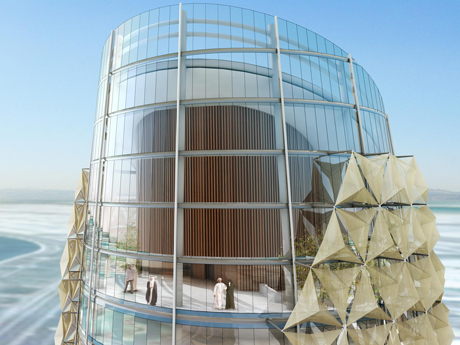 "At night they [the screens] will all fold, so they will all close, so you'll see more of the facade," says Eter Oborn, deputy chairman of Aedas, the architect for the project. "As the sun rises in the morning in the east, the mashrabiya along the east of the building will all begin to close and as the sun moves round the building, then that whole vertical strip of mashrabiya will move with the sun."
As well as being an innovative piece of sustainable green design the concept is also both culturally and environmentally appropriate which led to the Chicago-based Council on Tall Buildings and Urban Habitat granting it an innovation award last week.
"The dynamic facade on Al Bahar, computer-controlled to respond to optimal solar and light conditions, has never been achieved on this scale before," said Antony Wood, the council's executive director. "The winners display remarkable creativity, as well as a respect for the environment, connection with place, and the urban surroundings," added Richard Cook, awards committee chairman and founding partner of Cook+Fox Architects.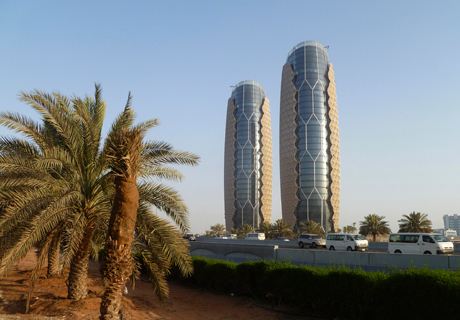 If you're interested in the kind of innovative thinking that's gone into the Al Bahr Towers you'll definitely enjoy our new book Vitamin Green. It takes a definitive look at contemporary sustainable design and architecture from around the world, and includes 100 buildings, landscapes and products nominated by an international roster of influential architects and designers, as well as critics, curators and writers.