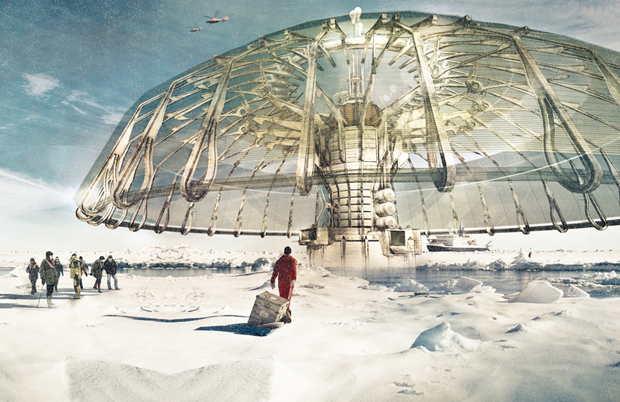 Polar Umbrella takes on climate change
Derek Pirozzi's idea combats global warming by attempting to rebuild ever-shrinking polar ice sheets
Sometimes it seems as if architects need to assuage their desire to build tall by tacking on and talking up their proposal's eco credentials. This often involves a 'vertical garden' or some sort of planting scheme up the sides of the building, to compensate for the emissions of CO2 from its inhabitants.
Freshly graduated Derek Pirozzi has gone a step further, by configuring a tower whose very raison d'etre is to combat global warming. His Polar Umbrella – which won first prize in eVolo magazine's 2013 Skyscraper Competition – purports to rebuild the ever-shrinking polar ice sheets. EVolo's annual architecture contest champions inventive and futuristic skyscraper proposals, so the American architect's entry was bang on brief.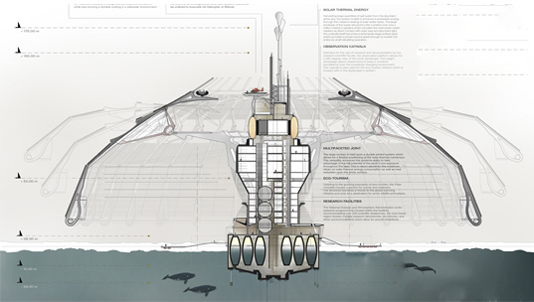 Pirozzi, who's based in Seattle, has imagined a vast organic structure which looks like a cross between a dome and a jelly fish. In fact, he sees it as a 'floating metropolis' with desalination and renewable power facilities, research laboratories, dormitory-style housing units, eco-tourist attractions, and ecological habitats for wildlife.
"Rebuilding the arctic layers is the primary objective of this proposal which cools down the Earth's surface by reducing heat gain in vulnerable arctic regions," explains Pirozzi, who graduated last year from the University of South Florida School of Architecture.
So the enormous canopy would reduce heat gain on the arctic surface and harvest solar energy. It would even have a way of replenishing those diminishing ice-caps, by freezing the ocean water in special harvesting chambers. If the Polar Umbrella ever got a backer, Pirozzi would like to see any number of them positioned in strategic 'hot spots'. You can see a number of equally innovative solutions to sustainability that did get built or manufactured in Vitamin Green.