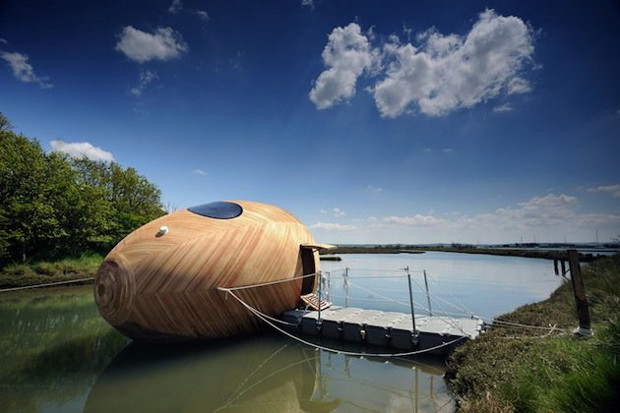 Artist builds his own egg-shaped home
The Exbury Egg will serve as Stephen Turner's seaside home, as he studies the effects of climate change
A pool of talented creatives worked together to build the Exbury Egg, a tiny, floating home and research station, currently moored in the Beaulieu estuary on Britain's south coast. Design firm SPUD, Perring Architecture + Design, boat builder Paul Baker, naval architect Stephen Payne, and artist Stephen Turner all helped construct the vessel. Yet, Turner's personal oversight might have been a bit more exacting then the others, since he is both the Egg's client and chief resident.
The Exbury Egg, which was launched towards the end of last month, will be Turner's home for the next year, as he studies and looks for inspiration in the rise and fall of the waters, in an attempt to better understand our environment.
"Climate change is already creating new shorelines and habitats," explains Turner, who has also lived alone in a derelict sea fort for 36 days in 2005. "Established salt marsh is being eroded by a combination of rising sea levels and falling landmass and the entire littoral environment is in a state of flux. The implications for wildlife and for the flora as well as for people are challenging. Raising awareness of the past and the unfolding present of a very special location will be the task, whilst living in an ethical relationship with nature and treading as lightly as possible upon the land."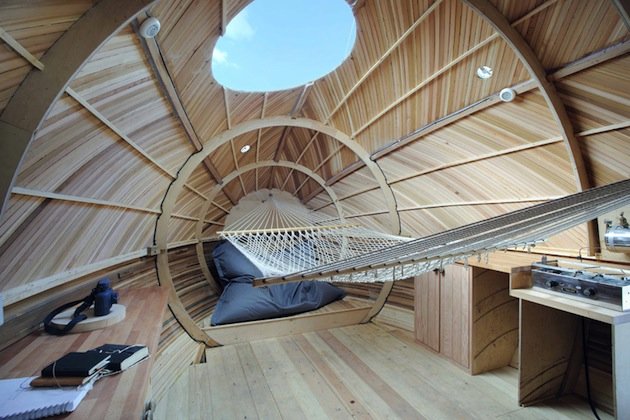 Turner's work has appeared, aptly, in Margate's Turner Gallery, among other places, and he often concerns himself with the sea, nature, the man-made world and the persistence of time.
The cold-moulded plywood and local timber ovum is just 20ft long and 9ft wide. Inside it looks welcoming though spare, and is kitted out with a hammock, a stove, a desk and a wet room. There's also an egg-shaped skylight and a square, hatch-like window.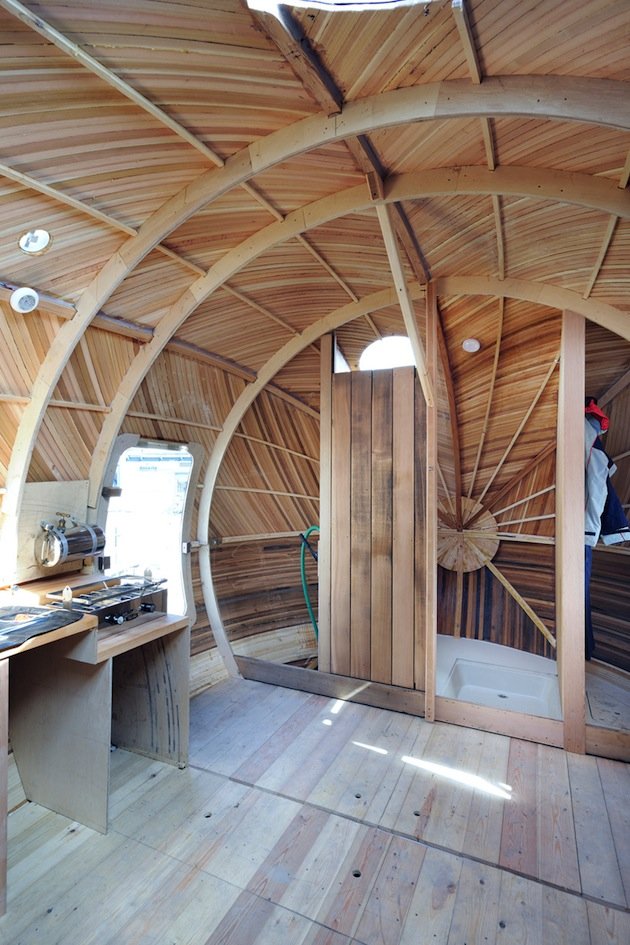 We love it already, but also think it will look better when, as the collaborators explain, it has taken on the marks of 730 daily tides below the water line, and 365 days of weathering by wind, rain and bleaching by the sun above.
"The light touch and basic nature of the Exbury Egg aims to re-appraise the way we live; to properly consider sustainably and future use of natural resources," say the team.
There'll be solar power for Turner's electronic needs, and once his tenure is up, the Egg will become a travelling exhibition space. To find out more, and to follow Turner's year, go here. For more on sustainable, ecologically sound architecture, try out Vitamin Green book, the definitive work on contemporary, sustainable design and architecture from around the world.