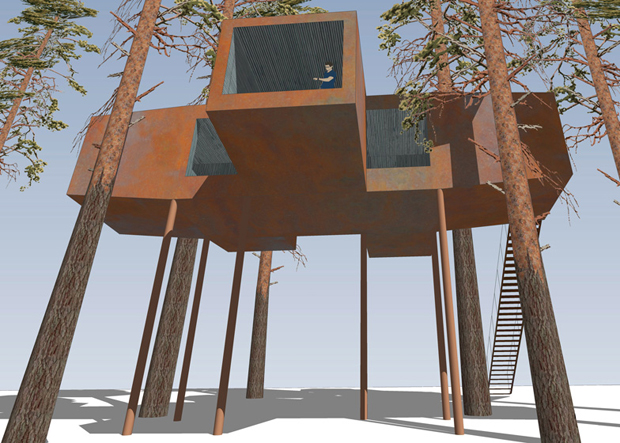 20 ton 'treehouse' built in Swedish forest
"Nothing remotely similar has ever been done before" say Rintala Eggertsson Architects
It may well be an architectural feat, but is it one worth pulling off? By the end of this year, a treehouse weighing 20 tons will be in place in a Swedish forest. It's the design of Finnish practice Rintala Eggertsson Architects, and will act as additional accommodation for the hotel Treehotel in Harads, a good viewing point, apparently, for the Northern Lights.
Actually 'treehouse' is something of a misnomer – it's more of a house on stilts positioned between the trees. It's attached to half a dozen pines 6m off the ground, meaning guests make their way up the equivalent of two storeys via ladder. Once inside, there are three bedrooms which feed off a main elongated living area. The hoteliers are calling it the Five Leaf Clover because of its shape. And much of that weight comes from the weathered steel in which the 53-sq-m suite is clad.
Commenting on the counter-intuitive design, Treehotel's co-founder Kent Lindvall says: "We always strive to push limits with our environmental work, architecture and engineering. The Five Leaf Clover is clear evidence of this, as nothing remotely similar has ever been done before."
Maybe not, but a few other fanciful arboreal structures already exist in the Harads' forestry, courtesy of the hotel. From the train-compartment-like cabin, the reflecting Mirrorcube, and the self-explanatory Bird's Nest, to the spaceship-style UFO, it's all got pretty eclectic out there. As a rule, we're keen on treehouses, like Chewton Glen's relatively conventional treetop suites in Hampshire that we featured in the summer. And even though this hefty new addition sounds rather far fetched, it can't help but arouse our interest.