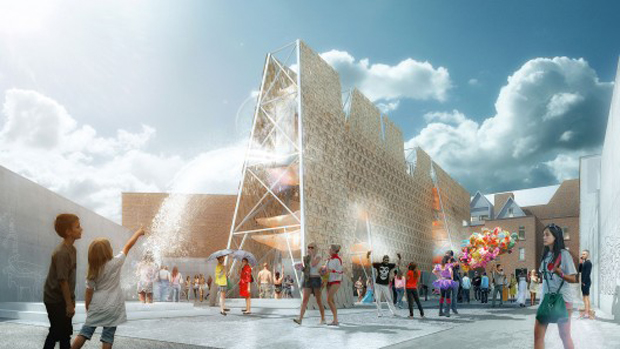 MoMA and CODA create wall made from skateboards
MoMA PS1 and design agency enlist support of local skateboard company Comet for their 'Party Wall'
The Museum of Modern Art and MoMA PS1 has selected Ithica, New York design agency CODA as the winner of their 2013 Young Architects Program (YAP). CODA's large-scale, self-supporting 'Party Wall', a temporary urban landscape created from shreds of eco-friendly skateboard material, will shade visitors to MoMA PS1's Warm Up Summer Music series with its woven screen and its detachable wooden skin will provide seating on the lower half of the structure.
"CODA's proposal was selected because of its clever identification and use of locally available resources – the waste products of skateboard-making – to make an impactful and poetic architectural statement within MoMA PS1′s courtyard," said Pedro Gadanho, Curator in MoMA's Department of Architecture and Design.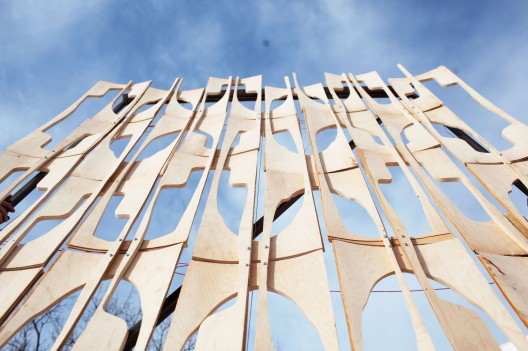 "Party Wall arches over the various available spaces, activating them for different purposes, while making evident that even the most unexpected materials can always be reinvented to originate architectural form and its ability to communicate with the public," he added.
MoMA describes the porous façade as affixed to a tall self-supporting steel frame that is balanced in place with large fabric containers filled with water, and clad with a screen of interlocking wooden elements donated by Comet, an Ithaca-based manufacturer of eco-friendly skateboards. The lower portion of the Party Wall's façade is capable of shedding its "exterior," as 120 panels can be detached from the structure and used as benches and communal tables during Warm Up and other diverse events and programs: for instance, lectures, classes, performances, and film screenings.
A shallow stage of reclaimed wood weaves around Party Wall's base to create a series of micro-stages for performances of varying types and scales. At various locations under the structure, pools of water serve as cooling stations that can also be covered to provide additional staging space or a shaded area from the direct sunlight.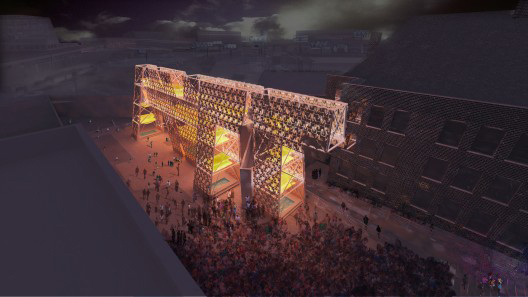 Party Wall's steel-angle structure is ballasted by water-filled "pillows" made of polyester base fabric that will be lit at night to produce a luminous effect. Party Wall acts as an aqueduct by carrying a stream of water along the top of the structure. The water is projected from the structure, via a pressure-tank, into a fountain that feeds a misting station and a series of pools.
"CODA developed an outstanding, iconic design that will support the many social functions connected to our large-scale group exhibition EXPO 1: New York, while creating a unique and stunning object for our outdoor galleries," said Klaus Biesenbach, Director of MoMA PS1 and Chief Curator at Large at MoMA. We too think it's an excellent design and are looking forward to sampling it this summer. For similar examples of innovative green thinking check out the wonderful Vitamin Green in the Phaidon store.
Previously called P.S.1 Contemporary Arts Centre, MoMA PS1 was founded in 1971 by Alanna Heiss and has devoted itself to organising exhibitions in under-utilised and abandoned spaces across New York City. It's first permanent location in Long Island City, Queens hosted site-specific installations by the likes of James Turrell, Richard Serra and Laurence Weiner. The organisation joined forces with MoMA in 2000.