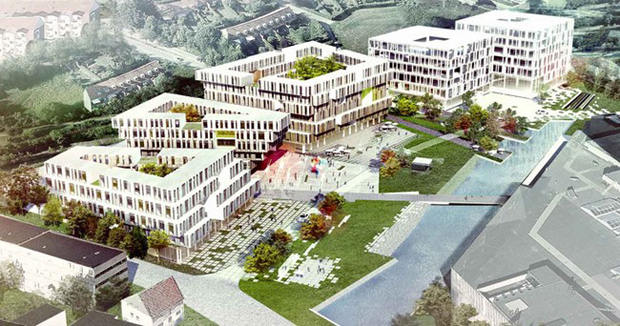 Henning Larsen designs Microsoft Danish HQ
Lyngby-Taarbæk complex foreshadows leading centre of knowledge and creativity in Northern Europe
Lyngby-Taarbæk, a business district north of Copenhagen, has grand ambitions. The vision is to make the area "one of the leading university cities and centres of knowledge and creativity in Northern Europe". The so-called Lyngby-Taarbæk City of Knowledge and Urban Development 2020 is en route to that with the design of a new Danish HQ for Microsoft. The software giant will be relocating its 900 staff from two sites into this new building, which breaks ground later this year. Danish architects Henning Larsen's scheme includes student dorms and shops alongside the HQ.
"Microsoft's new headquarters forms part of the organisation's overall vision to create the workplace of the future – where employees are supported in their different ways of thinking, working and collaborating through a flexible interior layout, based on state-of-the-art technologies," say the architects.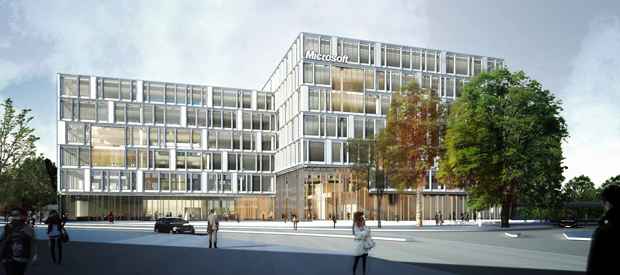 The plan is for the similarly-configured square and triangular buildings to cluster together on the 40,000sq m site. And Microsoft's intention is to invite members of the public to share some of the facilities. "The citizens can use our open cafe and technology area, students can use our allocated study area, and we will regularly host different events that will connect us even closer to the local area and Denmark," says Niels Soelberg, CEO for Microsoft Denmark.
Lyngby-Tarbæk's mayor Søren P Rasmussen expands on this: "The project reflects an interesting urban development strategy. Knowledge-intensive businesses are connected to urban life and the local study community."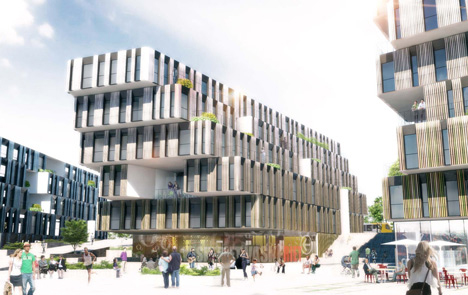 This is not as eye-catching an HQ as some tech businesses have been planning, but then Henning Larsen have been around long enough (54 years) to know you don't have to make a huge or unnecessary splash to get on. And it's bound to court less controversy than Foster's 'donut' for Apple, for example.
Having said that, Microsoft's design managers are no shrinking violets when it comes to the insides of their workplaces. Its Vienna HQ boasts a slide and a meeting room themed as a hunting lodge. So who knows what Henning Larsen's innocuous offices will look like once the interior designers have worked their magic. Take a look through Vitamin Green and our other architecture books in the store for more examples of innovative approaches to corporate architecture.