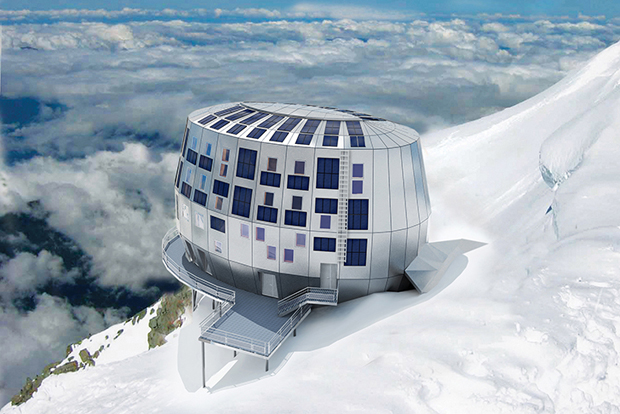 Mont Blanc refuge is as pure as the driven snow
Geneva-based Group-H's environmentally sound climber's refuge takes shape in French alps
Since 1854, mountaineers attempting to scale Mont Blanc have often found themselves passing the time at the Refuge du Goûter. This is the last shelter before they reach the summit, and at 3835m is the highest building in France.
It started life as a hut, which despite its simplicity lasted just six years shy of a century. The existing refuge went up in 1960, but this is "out-dated and far from meeting modern environmental standards". That's according to the designers and constructors of a marvellous new building, which will be ready to receive intrepid visitors this summer.
Group-H is putting up a four-storey, squat, circular lodge, constructed in wood and clad in stainless steel panelling. The construction itself was something of a challenge, as winds can whip round the sheer Aiguille du Goûter cliff at 300km an hour. The Alpine conditions meant that the builders could only work for half the year.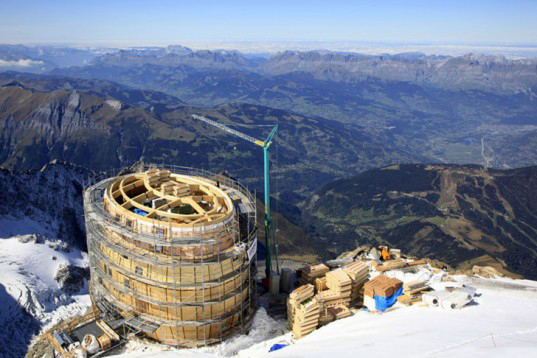 Group-H is a Swiss outfit based in Geneva and headed up by 60-year-old Hervé Dessimoz. Its designers are fanatical about their creation's green credentials: the wood is locally sourced, and many of the wooden parts were prefabricated in the valley in order to limit helicopter traffic to the site.
Power will be provided courtesy of 750sq-ft of solar panels, photovoltaic and biomass energy and wind turbines, and there's even an emergency backup generator run on rapeseed oil. It's all very Vitamin Green. Meanwhile a snow-melting treatment system will be used for cooking and flushing toilets. This will all go towards servicing the 120-bed hotel. Meanwhile the beleaguered 1960s shelter will still serve a purpose. Instead of being demolished it will stay on as an annex to the hotel.
It's all been quite an ordeal – five years in the planning and three years in the building at a cost of €6m. But if Group-H's refuge all seems a bit too comfy and deluxe then architecturally-aware mountaineers can also hot-foot (if that's the right expression) round to Courmayeur on the Italian Freboudze glacier, which is in front of the East face of the Grandes Jorasses of the Mont Blanc Range. Designed by Italians LEAP Factory, it's a much more basic survival unit (bunk beds and living room plus integrated kitchen), all housed in a stylish tube that cantilevers over the mountain. Only for the truly adventurous.