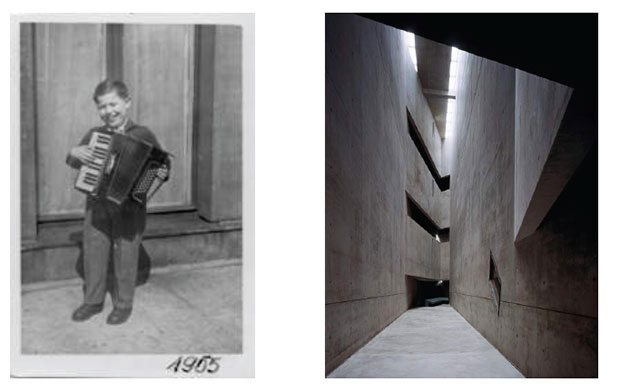 Libeskind and Hadid remember their childhoods
New show sees prominent architects and designers reflecting on their formative experiences as kids
Early childhood memories are among our strongest. Whether we like it or not they've helped form our characters - and possibly even mapped out our career paths. For Zaha Hadid it was a family trip to see Frank Lloyd Wright's designs for the Baghdad Opera House when she was just six. For Daniel Libeskind it was the crystalline blackness of a salt mine he visited near Krakow. And for Kengo Kuma it was the discovery that by closing the shoji, the ubiquitous paper screen found in Japanese houses, he could turn the room he was in into a completely new and exciting world.
Childhood ReCollections: Memory in Design, a forthcoming show due to open in September at the Roca Gallery in London looks at the childhood influences of some of the most important architects and designers in the world and how these seemingly fleeting moments went on to help shape their subsequent careers. From what we've seen so far, courtesy of its curator Clare Farrow, the show promises to be truly revelatory.
Daniel Libeskind's memories are, inevitably, among the most poignant. The Jewish architect remembers his early childhood home very well, because he was forced to leave when he was 11. "We lived in a two-room apartment in a typical tenement in Lodz, the four of us, myself, my sister, and our parents. It was a very small apartment on one of the higher floors, the fourth I think. Something that was very memorable was that it had a bathtub in the kitchen! It was a very tiny tenement, overlooking a closed courtyard.
"I don't know when I went, but I remember the Wieliczka, the underground salt mine just next to Kraków, which has been there from the 18th century. That is one of the images that stuck in my mind. It was a crystalline world in blackness, with no sky, and it had a huge impact on me. There are carvings of churches there, and all sorts of amazing things."

Fittingly, Zaha Hadid's memories are of a more modernist nature. The cosmopolitan nature of Baghdad during her childhood helped attract architects such as Frank Lloyd Wright and Gio Ponti, in turn creating a cultural vibrancy in the city that inspired the young girl.
"As in so many places in the developing world at the time, there was an unbroken belief in progress and a great sense of optimism," she told Farrow. "If you look back to the 1960s, when I was growing up, it was a moment of nation building; there was a lot of emphasis on architecture, not only in the Arab world but also across South America and Asia." Hadid also travelled with her family to Spain when she was 7 where she saw the Great Mosque of Cordoba.
"I remember thinking that was the most stunning space! Of course there are lots of other truly great spaces – but this building left a tremendous impression on me. It has a dark interior, but then there is the extraordinary white marble inside the space – it's like the modern hybrid projects we build today."

As for Kengo Kuma, his earliest memories are of material and light. "The house where I was brought up was a wooden one-storey house, built before the Second World War. It hugely differed from any post-war style, especially in materials and the planning for the house. I well remember the earthen wall and washi papers in the old house I lived in, and I now use those natural materials in my work, partly with a sense of nostalgia, and some admiration. Also the tatami rooms, which began to cease in the post-war westernised houses, influenced my design a lot. The unique flexibility of tatami is often reflected in my designing."
The show, curated by Clare Farrow, opens at the Roca Gallery on September 17 and runs to January 23. It will present the architects' and designers' memories in photos, text, objects, materials, scent, film, music and sketches. We'll bring you more on it as we get closer to the opening including an interview with Farrow. Meanwhile though, to find out what inspires today's architects check out our selection of finely crafted architecture books in the store.