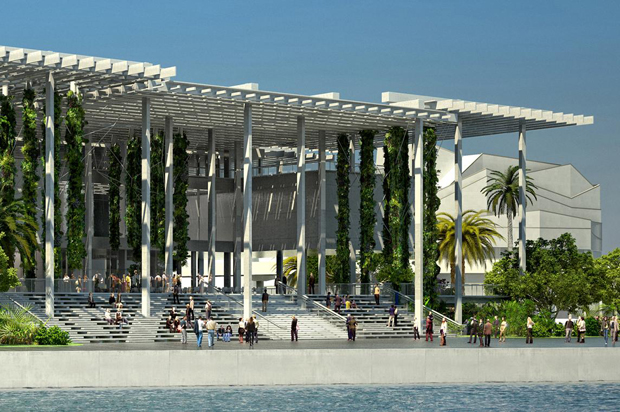 Herzog & de Meuron's Miami Art Museum 'reconnects residents with climate'
Speaking at Art Basel Miami, Jacques Herzog pledges an end to fur coat, air-conditioned culture
"In Miami, more than in any other American city, you have everything." So said Jacques Herzog at Art Basel Miami last week. The architect was commenting on the big idea behind Herzog & de Meuron's new Miami Art Museum which aims to help reconnect Miamians to their surroundings by encouraging them "out of the glass towers" and into the natural climate of the surrounding area. During his chat, Herzog made a barbed comment about the air-conditioned culture of the city saying, "Women, they have to go around wearing fur coats."
The Miami Art Museum is expected to open in late 2013. The design has been described as "a temple-like box reminiscent of the grand culture palaces of old".
"What we do here is like a petrified wood construction, like Japanese architecture or Greek temples," Herzog said, surveying the construction with local reporters.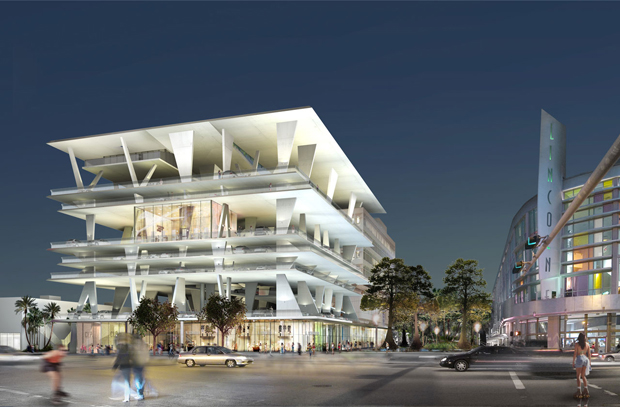 With it's long sight lines affording views to the surrounding park and waterfront, each gallery will feel like a part of the surrounding landscape. Museum director Thom Collins has called it a "polyvocal" effect - visitors will be encouraged to "create their own narrative" as they move through the museum.
In keeping with Herzog & de Meuron's ideal for the building to complement rather than confront Miami's natural climate, an enormous volume of vegetation will cling, hang, and grow on all four sides, with trees poking up through the structure and vines creeping along its various supports. The idea is that once the plant life is in place it will encourage locals to relax in a shady outdoor space on the shores of Biscayne Bay.
If you're a fan of this kind of stuff, you may be interested to know that our new book 20th Century World Architecture features 28 fantastic museums and five beautiful art galleries - each of which will give you a good idea of how architects have catered to the changing needs and desires of visitors over the course of the 20th century. Find out more about it here.