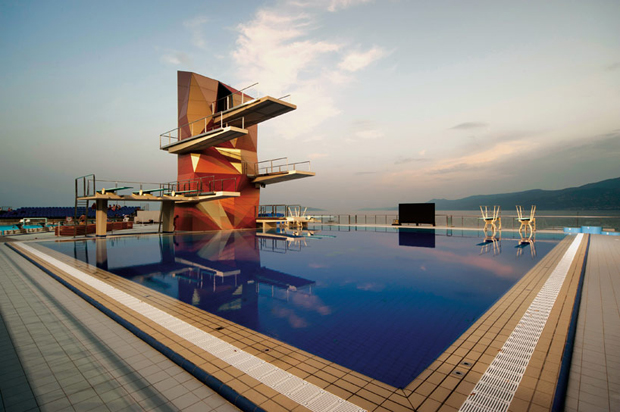 The water's lovely - and so is the diving board
Studio Zoppini's Rijeka Olympic centre in Croatia mirrors surrounding rocks that jut from the sea
The Olympic Games have inspired some formidable tower structures, Zaha Hadid's ski jump in Innsbruck for example or, more recently Anish Kapoor's twisting red metal structure Orbit, on the site of last year's games in London.
Now, the Rijeka Olympic centre in Croatia has a new diving tower. The architects, Studio Zoppini, took inspiration from the seaside town's famous nearby rocks, which appear to launch themselves up out of the ocean. Hence the geologically geometric angles of the tower's column.
"It stands as a sea stack, an icon visible even from the water identifying the sport complex," the architects tell Design Boom. "It is built using aluminium panels and its colour changes in relation to the reflection of sunlight." So one moment the parts look red, and the next ochre. In accordance with regulations, the tower holds five diving boards of differing heights.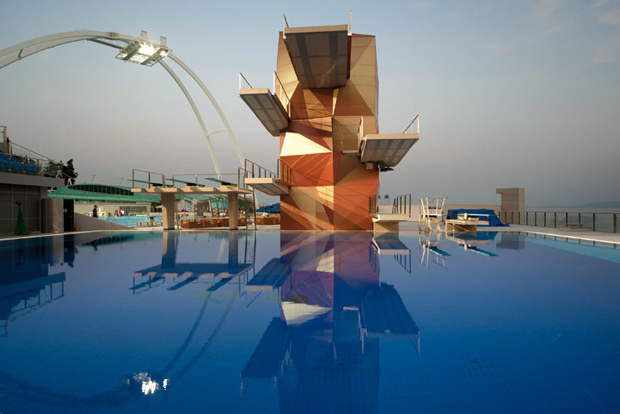 Studio Zoppini, which was set up in 1961 by Pino Zoppini and is based just outside Milan, has already made its mark at the Rijeka Olympic complex, with the design of a state-of-the-art swimming pool, complete with a sliding roof. All this architectural activity was a key part of Rijeka's bid to host the 2013 Mediterranean Games (who knew?). Sadly for them, the honour went to Mersin in Turkey. More Olympic-related structures can be found in 20th Century World Architecture and the competitively priced Phaidon Atlas of 21st Century Architecture.