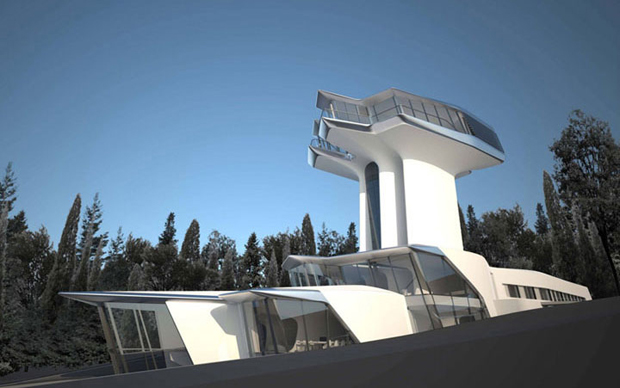 Zaha Hadid designs house for Naomi Campbell
Russian businessman Vladislav Doronin commissions Dame Hadid to create house for supermodel girlfriend
Russian businessman Vladislav Doroninis is obviously keen on good design. His current girlfriend is Naomi Campbell and the house he's commissioned for her comes courtesy of Dame Zaha Hadid. For reasons we're not too clear on, it's called Capital Hill, we think you'll agree it bears a passing resemblance to the Starship Enterprise.
The 2,650 square meter residence is divided into two separate components, one merging with the Barvikha hillside - traditionally home to many upmarket Soviet-era dachas, now the nesting home of the super rich - just outside Moscow, and another floating 22 metres above the ground with dynamic views of the surrounding forest. The villa is organised on four levels, the lower level serves as a leisure space with a living room, massage and fitness room and will include a sauna and hamman.
The first floor houses the study, guest room and a play room while the top floor has the master bedroom with a terrace for more breathtaking forest views. The third level features the main living room, dining space, kitchen entertainment and indoor swimming pool.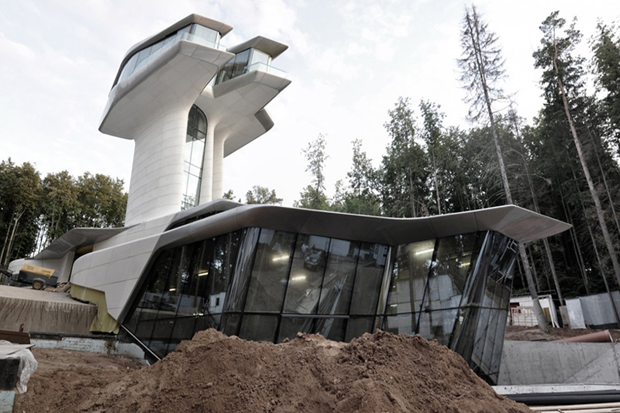 The two main components of the house are connected by three concrete columns that function as structural elements. Within the interior space of the columns are the vertical shafts required to place all mechanical elements and services connecting to the upper level. Incorporated within the space between the columns is the vertical circulation of the house where a transparent glass elevator and staircase are situated, providing a direct connection between the lower and the upper levels.
Take a look at some more of Hadid's work here and for an overview of some of the best architecture of the 20th Century check out the wonderful 20th Century World Architecture.