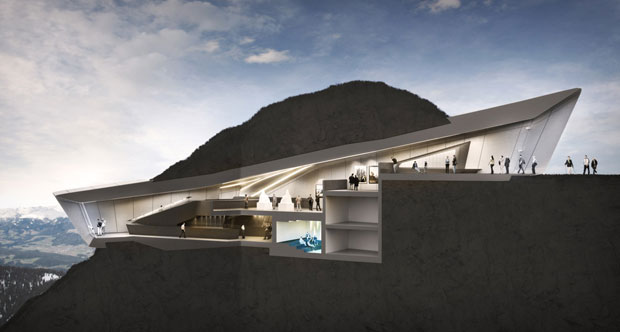 Zaha Hadid designs mountaineering museum
Three dimensional parallelogram resembling a shard of glacial ice is 'inserted' into South Tyrol mountain
Some people might think that remote mountainous regions should be one of the few terrains that architects shouldn't mess with. But as we saw with Group-H's deluxe Refuge du Goûter on Mont Blanc last month, nothing is sacred.
And of course, sheer rock faces and snowy peaks make a fantastic backdrop to buildings. Zaha Hadid has shown us that a good way to respond to the topography is to embrace it. So in South Tyrol she's designed a three dimensional parallelogram, with one end reversed into Mount Kronplatz and the other resembling a piece of jagged glacial ice.
This is Messner Mountain Museum Corones, named after its initiator, the mountaineer Reinhold Messner, who joined forces with the Kronplatz ski resort to pull this off.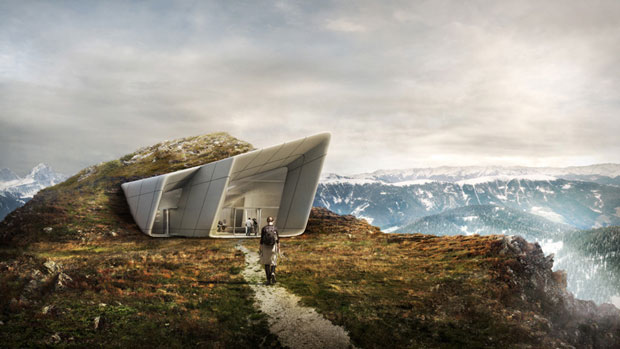 Messner says: "MMM Corones is the final piece in my series of mountain museums." Five others are already up and running, which, like Hadid's, feature exhibits about mountainous regions all around the world. The mountains of South Tyrol are close to Messner's heart. He was born in the region, since when he was the first mountaineer to reach the top of Mount Everest solo and with no supplemental oxygen.
"Dedicated to the great rock faces of the world, the museum will focus on the discipline of mountaineering," he adds.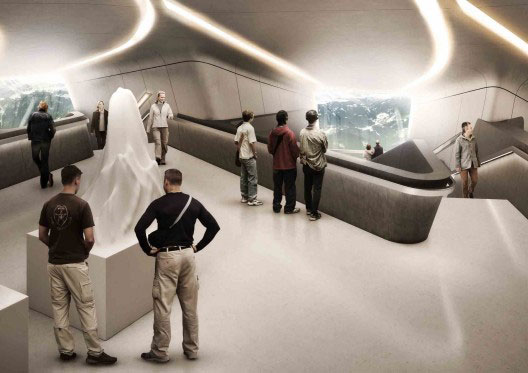 The angled square entrance way leads to the actual museum space buried within the mountain. This is on three floors, connected via a ramp, where objects, images and tools from Messner's archive will be on show. "By immersing the built spaces inside the mountain, the museum maintains an almost constant internal temperature," claim the architects – though they don't reveal what that temperature might be. The museum is scheduled to open in 2014, the year Messner turns 70.
For some more mountain top flights of fancy and a greater insight into the way we're building today, please take a look at our Atlas of 21st Century World Architecture. But before you buy anything, do remember to join Phaidon Club. Once a member you'll gain reward points, and be able to take advantage of exclusive offers and events.