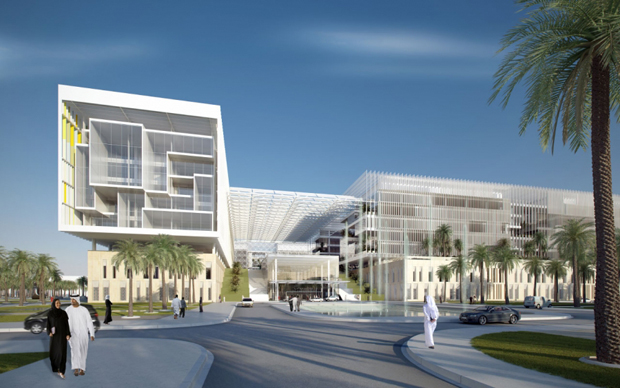 SOM build 'city within a city' in Abu Dhabi
Vast hospital complex by Skidmore, Owings & Merrill aims to foster a sense of community in the emirate
Skidmore, Owings & Merrill is a big US beast of an architecture firm, with footholds in London, Hong Kong, Shanghai, Mumbai and Abu Dhabi.It is this last outpost which will be handling the day-to-day efforts of an award-winning hospital project, the Sheikh Khalifa Medical City (SKMC) in the heart of the emirate.
It's being described as a city within a city, as SOM's scheme is designed to foster a sense of community around the 300,000mcampus. The new buildings will house a general hospital with a trauma centre, plus a women's and a paediatric hospital – around 840 beds in all.
What will be the country's biggest hospital was commissioned by the Abu Dhabi Health Services Company. The vast complex, which is due to start construction next year, should be done and dusted towards the end of 2016. It will be a tricky business getting it up and running, as it's being built on the site of the existing SKMC, which will be demolished in phases.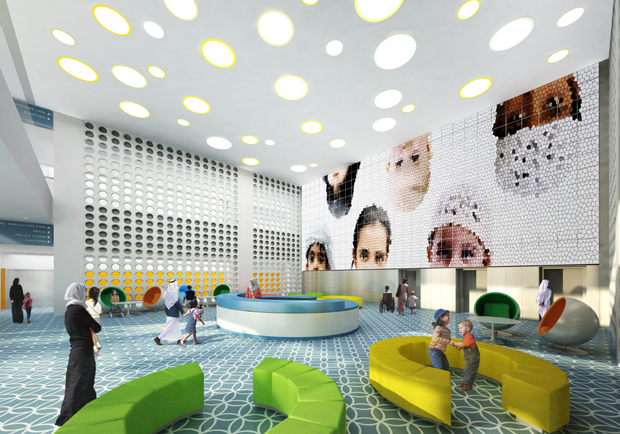 SOM's main task is one of logistics: how to build new buildings and make them operational while the buildings around them are still functioning in the short-term but are due to be torn down in the long-term. At the same time, the architects are hoping to create a bustling unified whole, built around a low-rise super-block. In this will sit medical functions along with what they think of as a 'town centre' of lobbies, cafes, shops, prayer rooms and educational areas. The public will also have access to 2.3 hectares of shaded garden on the roof.
To distinguish the three hospitals from each other, SOM has varied the sun screens at the windows. So the General Hospital has conventional screening, while the Paediatric Hospital sports colourful patterns, and the Women's Hospital has complex geometries inspired by mashrabiya, the carved wood latticework on traditional Arabic windows. The architects have extended the healing qualities of the place to the landscaping, so that a handful of courtyards within the main building will bring light into the large internal areas, and will help visitors, patients and staff with orientation. SOM are among a number of innovative architecture practices whose work is featured in our newly published 20th Century World Architecture - on offer in the Phaidon store until close of play Monday. Hurry, hurry, hurry!