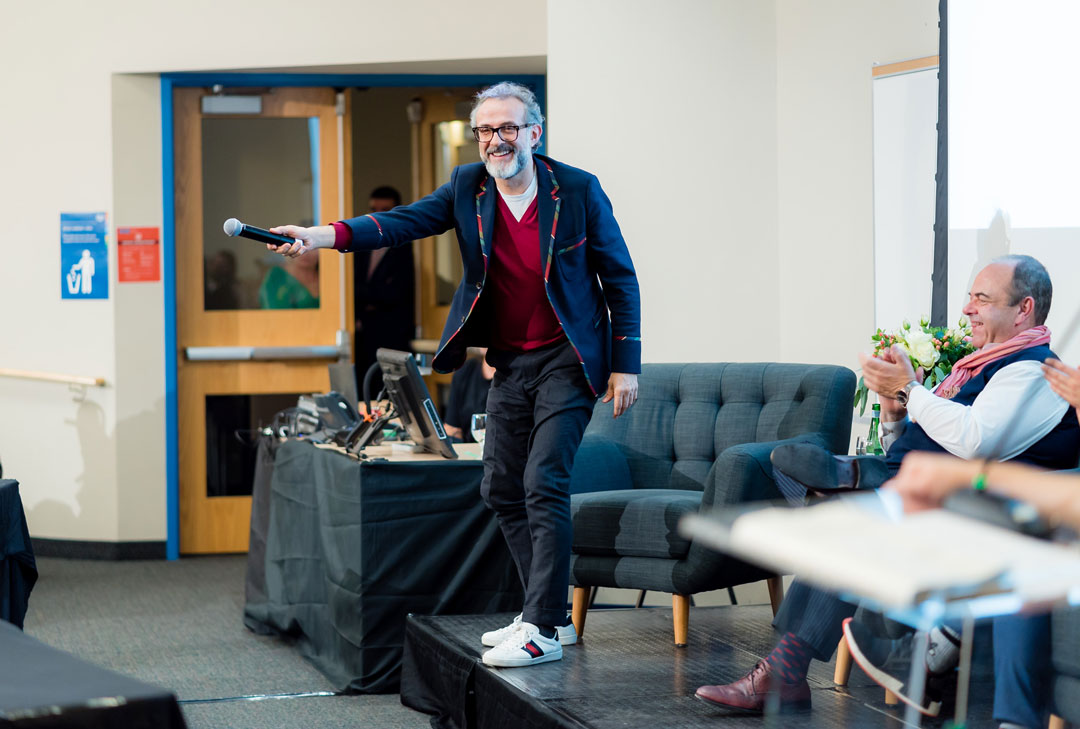 Make some noise Toronto!!!
Massimo Bottura turns up the heat at Bread Is Gold talk at the chef school at George Brown College
Some might be inclined to throw out a two day-old baguette. Not Massimo Bottura, who, after his recent US tour, is as renowned for his Michelin-starred restaurant in Modena as he is for his roster of Refettorio pop-up restaurants opened to feed the needy. "That bread can be turned into bruschetta," Bottura reminded a crowd gathered to hear him speak in Toronto. "A day later, panzanella. Then, breadcrumbs."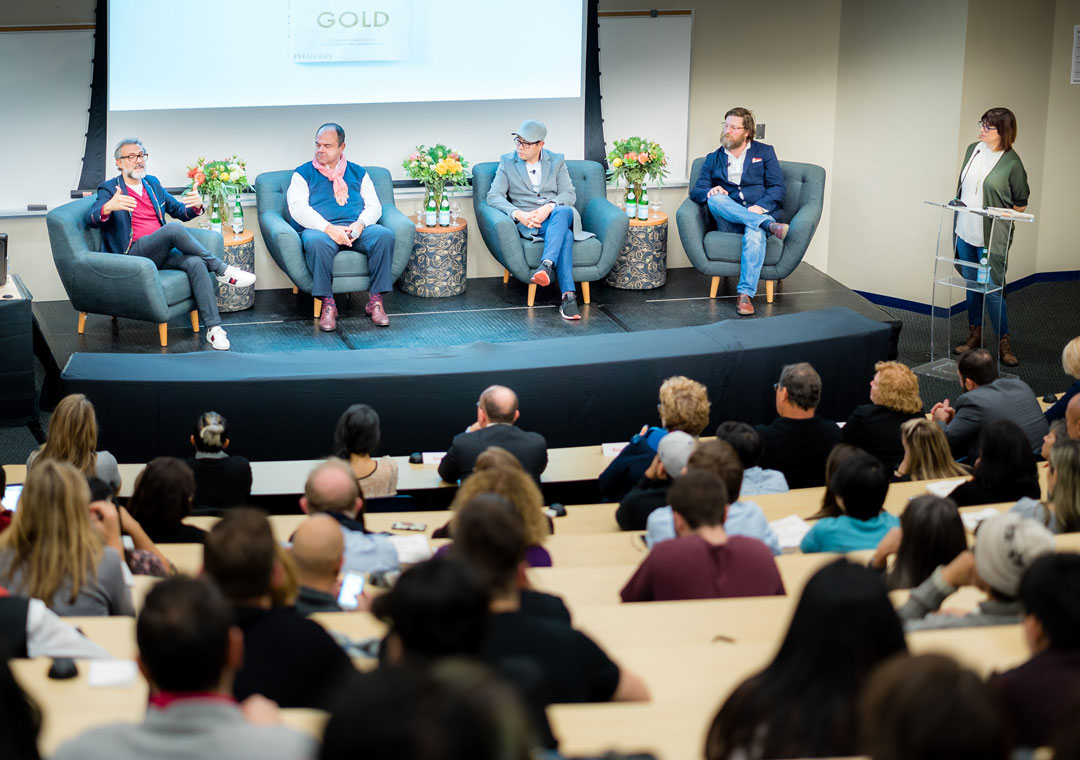 Hosted by the chef school at the city's George Brown College, Bottura's Toronto talk was a discussion between our skinny Italian chef and three top Canadian ones who had each done a past stint cooking at a Refettorio. Jeremy Charles, the cook behind St. John's, Newfoundland restaurant Raymonds on Canada's east coast, and John Higgins, the director of George Brown's chef school, had both lent their talent to Bottura's Refettorio Ambrosiano opened during Expo2015 in Milan. Anthony Park, best known for his restaurant Park in Montreal, cooked at the follow-up, Rio di Janeiro's Refettorio Gastromotiva.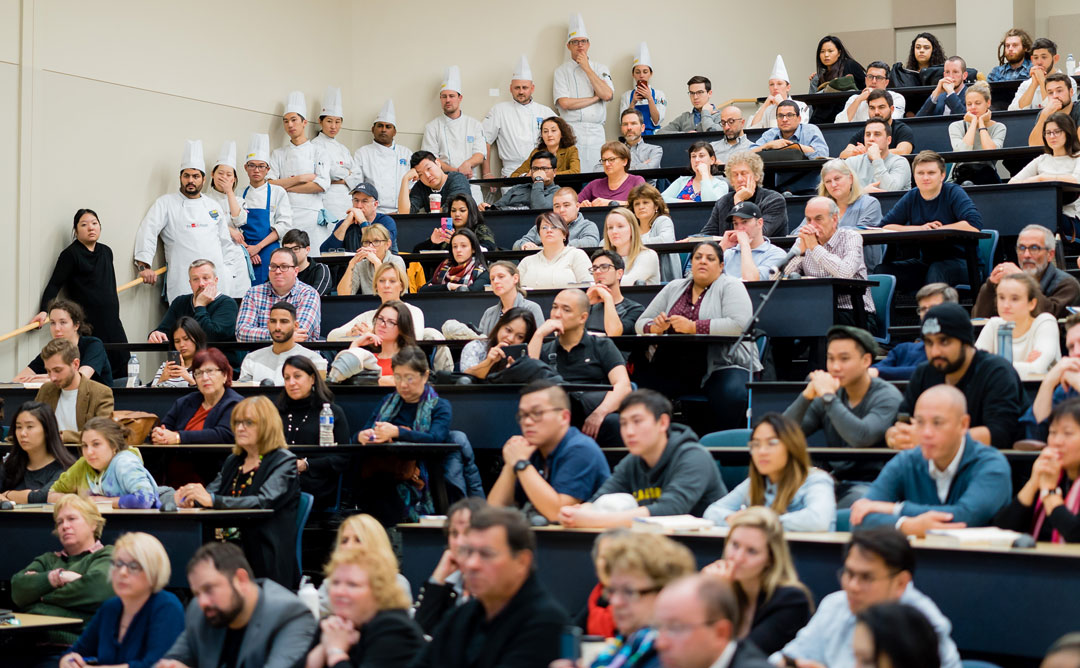 The quartet each shared their experiences turning ordinary ingredients into extraordinary meals - and discussed how Bread is Gold can help home cooks follow suit. Higgins pointed out that too often, food is discarded or passed over simply for not looking right. But, as he reminded the audience, "an ugly tomato can still taste good." Looking to Bottura to his right, he then playfully added, "they can't all be wearing Gucci shoes." Bottura shrugged at this gentle ribbing. "What?" he asked. "I'm Italian!"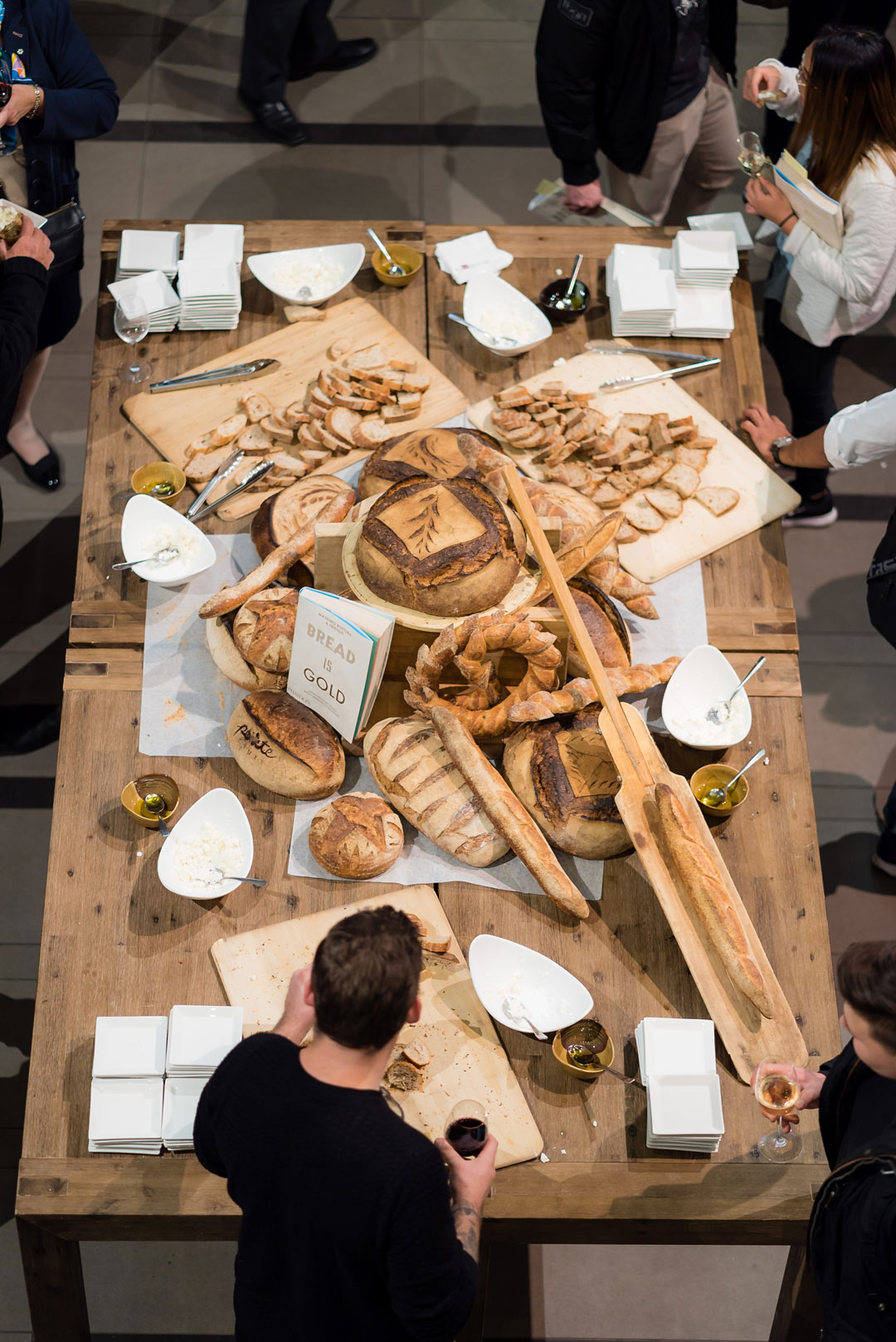 Following the talk, Bottura signed copies of Bread is Gold. Dan Gütter - who runs Toronto catering company Jack and Lil's - lined up to meet one of his idols for the second time. The first was back in the fall of 2014, when he took a break from his then-job cooking at Momofuku to backpack through Europe. Gütter arrived in Modena and walked into Bottura's restaurant hoping simply to take a picture - he hadn't realized that Ostera Francescana was open for a lunch service as well.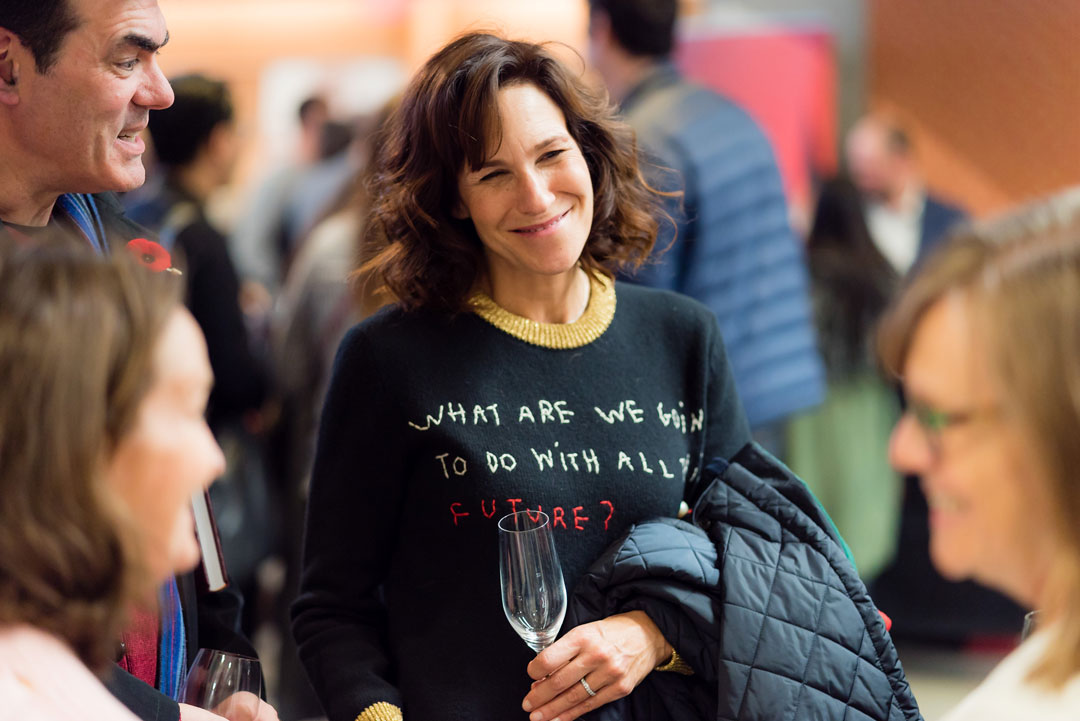 As soon as the host heard he was a chef, he sent Gütter into the kitchen to meet Bottura himself. "Massimo told me to put my bag down, then fed me half of the dishes on his tasting menu," said Gütter. I ate ragu right out of the pan. I can't speak to any other chef that would do that. It was a humbling experience, because it was a show of true hospitality. Everything he preaches, he practices. It was unbelievable."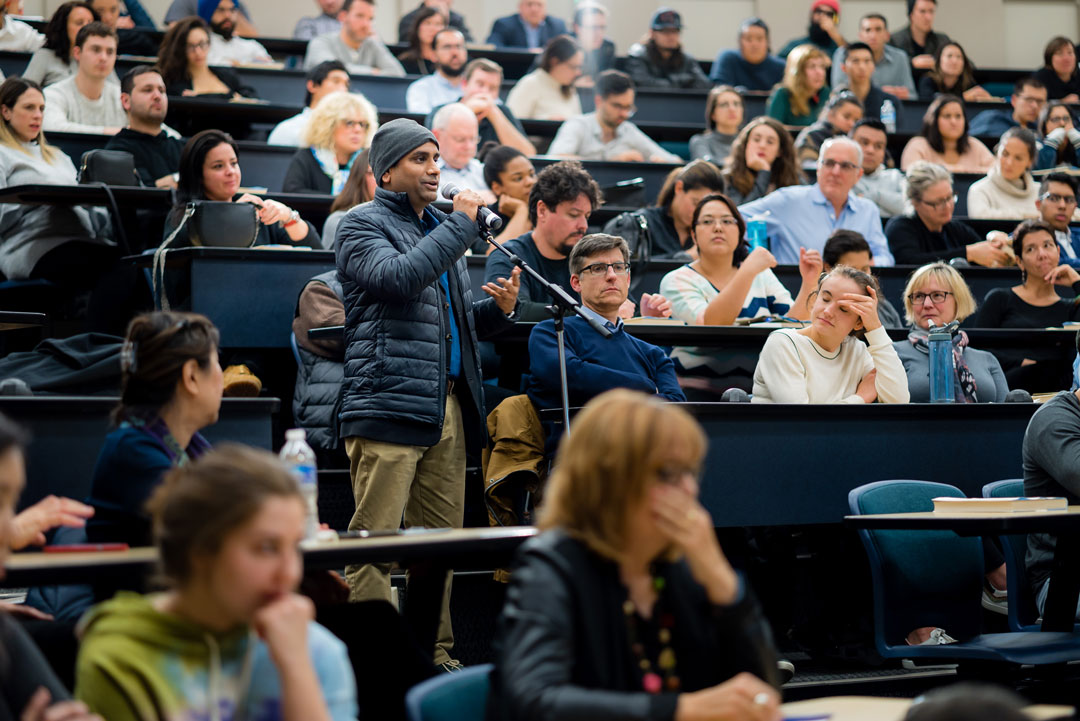 With freshly signed books in hand, Gütter and Bottura's other devotees then dined on a selection of food cooked by George Brown grads. In keeping with the spirit of Bread is Gold, each dish demonstrated a creative use of oft-underappreciated ingredients: arancini was prepared with broccoli and herb stems that would typically be discarded, for instance, while mini cornbread loaves were topped with a tiny piece of bresaola - a reflection of the twelve pounds of grain required to raise one pound of beef. All of this was accompanied by some fine Lavazza coffee.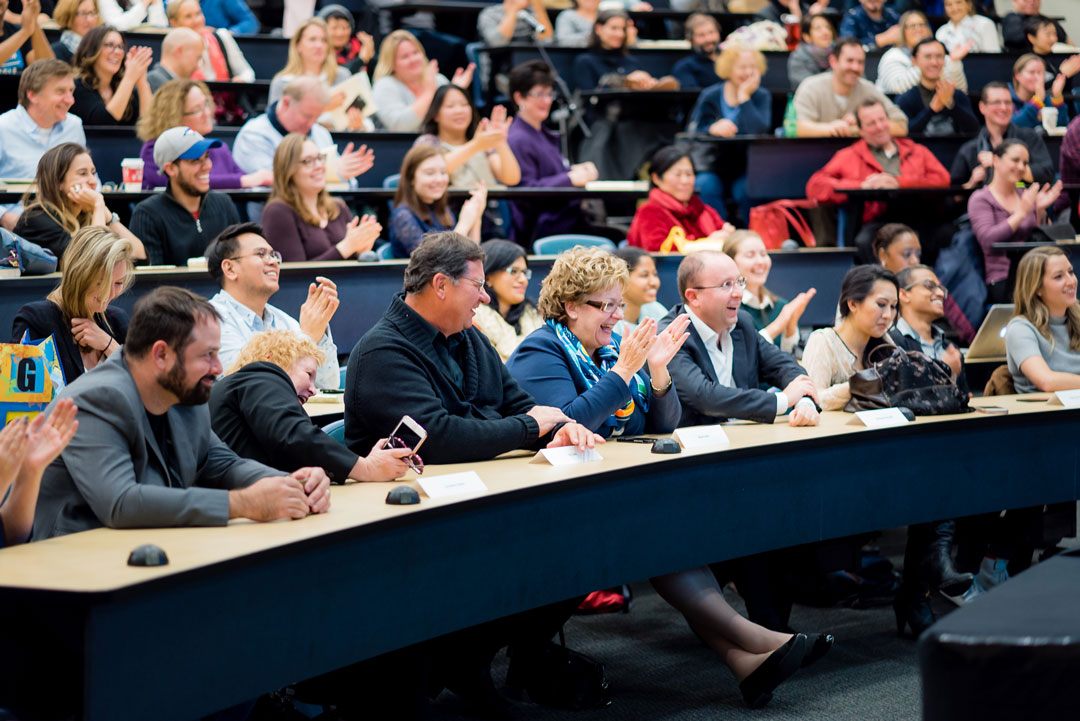 Fittingly, there was also a table covered in tasty bread - though by the end of the night, it didn't appear as though there would be any left over to turn into panzanella. You can learn more about Masismo's Food For Soul initiative and buy Bread Is Gold here.