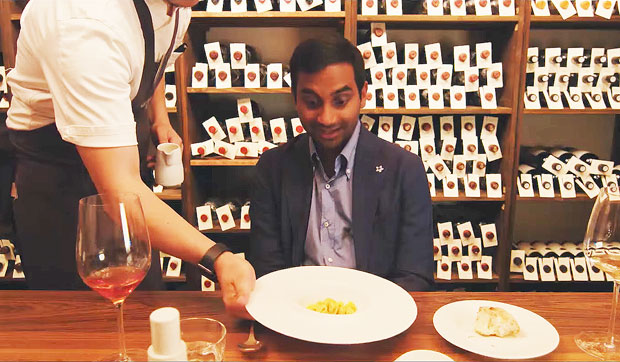 How Aziz Ansari ended up at Massimo Bottura's place
"It was one of the greatest meals of our lives that we happened to capture on film!" says co-star Eric Wareheim
Aziz Ansari's comedy Master of None returned to Netflix a couple of days ago, with a couple of surprises. The opening two episodes were shot in Italy, not New York, as the earlier shows had been. Both were directed by Ansari, and the first was filmed in black-and-white, as a kind of cinematic tribute to Italian neorealism.
However, the second episode brings things thoroughly up-to-date, with full colour, and a scene shot in Massimo Bottura's Osteria Francescana. Aziz and his co-star, Eric Wareheim, take a strong interest in food; Aziz's character Dev is taking an internship as a Modena pasta maker during the series' opening episode.
Yet, it was actually chef Massimo Bottura's love of the TV show that brought the film crew to Italy's leading three-Michelin star restaurant. Bottura heard the show was being filmed at another Modena restaurant and decided to intervene.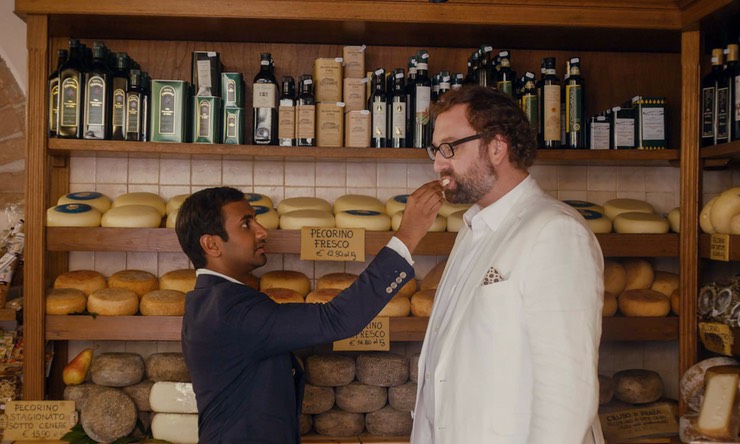 "We were out drinking and he comes up to us and says, 'What are you doing, why aren't you shooting in my restaurant?'" Wareheim told AV Club. "We were like, 'We don't want to bother you, you've got the number one restaurant in the world we didn't want to impose on you.' And he's like, 'No, tomorrow you are coming in for lunch in the private room. You are going to eat the full thing, drink real prosecco, drink real wine and we'll shoot it.' We were like, 'Holy shit, this is our lives right now?' So in the scene our expressions are real, we're freaking out. It's one of the greatest meals of my life that we happened to capture on film."
If you are wondering why there is a stack of wine bottles behind Ansari in his Francescana scene, we can also reveal the pair dined in the restaurant's private cellar, not normally accessable to the public. You can watch a little of that in the trailer, above; the restaurant pops up at around the 45-second mark; and for more Massimo deliciousness, order his book, Never Trust a Skinny Italian Chef here.