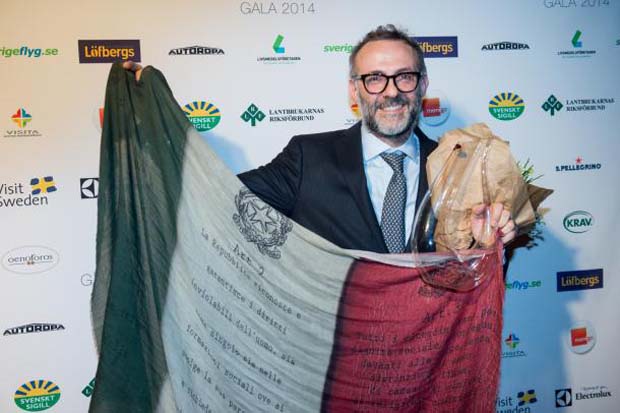 The ingredients that make up Massimo Bottura # 4
We break the 50 Best Restaurants #1 chef down into his constituent parts. Read how Italy influences his cookery
It's not unheard of for a local celebrity to carry out a little charitable work in his or her home town. Yet it's far rarer for that work to involve huge balls of Parmesan cheese. However, when an earthquake struck northern Italy in 2012, local Modena chef and international gastronomic star Massimo Bottura knew that by wrecking thousands of kilos of locally produced Parmesan the seismic shock had struck at the heart of his local community.
Banding together with producers, chefs and restaurateurs, Bottura arranged for the cheeses to be distributed, sold for charity and consumed before they spoilt. He also helped prepare, cook and promote special restaurant menus, with proceeds going to producers higher up the local supply chain who had been hurt by the quake. Were this any other public figure, you would be forgiven for thinking that all this might be a bit of a publicity stunt, yet for Bottura, calamity in the local cheese caves of Emilia Romagna had a direct effect on his own livelihood and the livelihoods of his compatriots.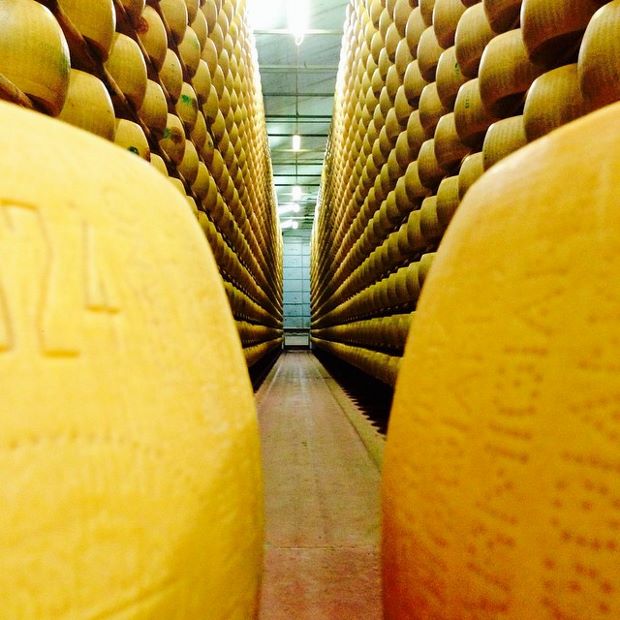 "The terroir is everything," explains the author of our book, Never Trust a Skinny Italian Chef. "If you know your artesan cheese maker, your farmer, they can give you incredible products and through these you can transfer emotion through the food."
Bottura was born "in the land of fast cars and slow food," as he puts it. He means Italy, naturally, but more specifically northern Italy, given the reference to the anti-fast food movement, founded in the Piedmontese town of Bra, and Ferrari, Lamborghini and Maserati, the sports automotive manufacturers whose headquarters are all a short va-va-vroom away from Modena, where Bottura grew up and where he still lives to this day, running his three-Michelin star restaurant Osteria Francescana.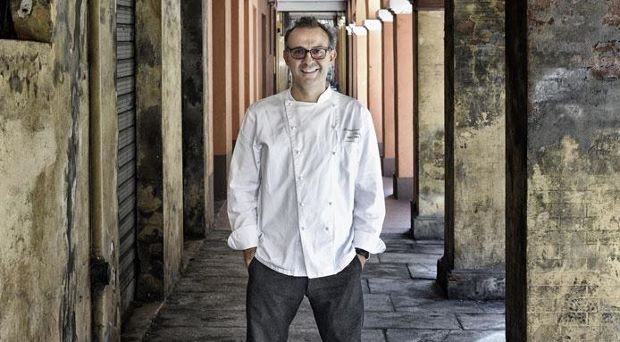 The famous produce from this region lies at the heart of his cooking. He describes his first venture in 1986, a small roadside restaurant, Trattoria del Campazzo, as "trying to build my life from a piece of Parmesan and a few drops of Balsamic vinegar."
He may have trained with Ferran Adrià, incorporated the artistic influences of Ai Weiwei, got married and raised a family since then, yet the people, environment and ingredients or Italy are still central to what he does.
His cookery, he says, "is not about me it's about us" – his faithful brigade in the kitchen of course, but also the thousands of farmers, vintners, artisans and other producers in the surrounding region, and the craftsmen and women who went before them. It is Italy that has given him the ingredients and traditions that he has reworked into his own, unique take on Italian gastronomy.
You can learn about the other ingredients that make up Massimo Bottura, including, music, art, and family here. And for a richer understanding you can buy Never Trust A Skinny Italian Chef here.