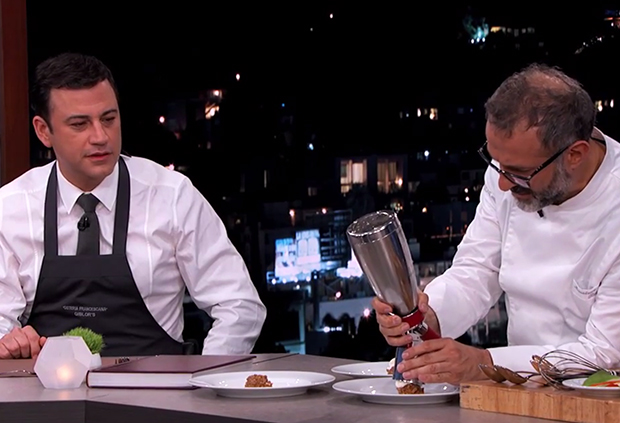 Massimo Bottura is a hit on Jimmy Kimmel Live!
The brilliant Italian chef cooks for the TV host, his guest, Billy Crudup, and sidekick Guillermo Rodriguez
How well does Massimo Bottura's cookery travel? Excellently, if last night's Jimmy Kimmel Live show is anything to go by. The TV host, his guest, Billy Crudup and his sidekick, Guillermo Rodriguez were all served three dishes from Bottura's new book, Never Trust a Skinny Italian Chef, during a hilarious show.
Bottura altered the presentation of one recipe for a US audience, renaming Memory of a Mortadella Sandwich, Memory of a baloney sandwich in recognition of the American term for the Italian sausage.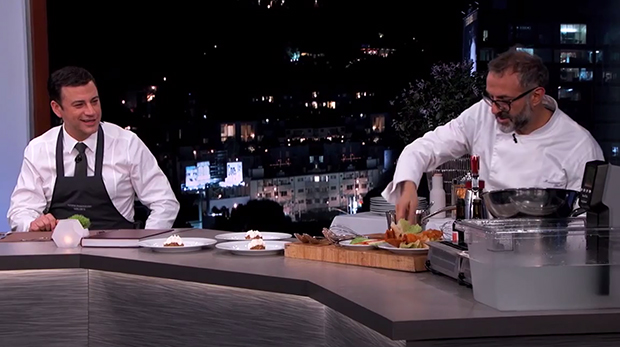 Yet this elBulli-like foam recreation of the popular snack was just as innovative and delicious as it is when served in Bottura's Osteria Francescana, in Modena, Itay. Kimmel, a little taken aback by the dish, quipped, "you smoke a lot of weed over there, don't you?" When Massimo unveiled Oops, I dropped the lemon tart, Kimmel retorted with expert timing: "You're very weird!"
Both Crudup and Guillermo were taken aback by the taste of the dishes with the latter saying "This is very great!" to cheers from the audience.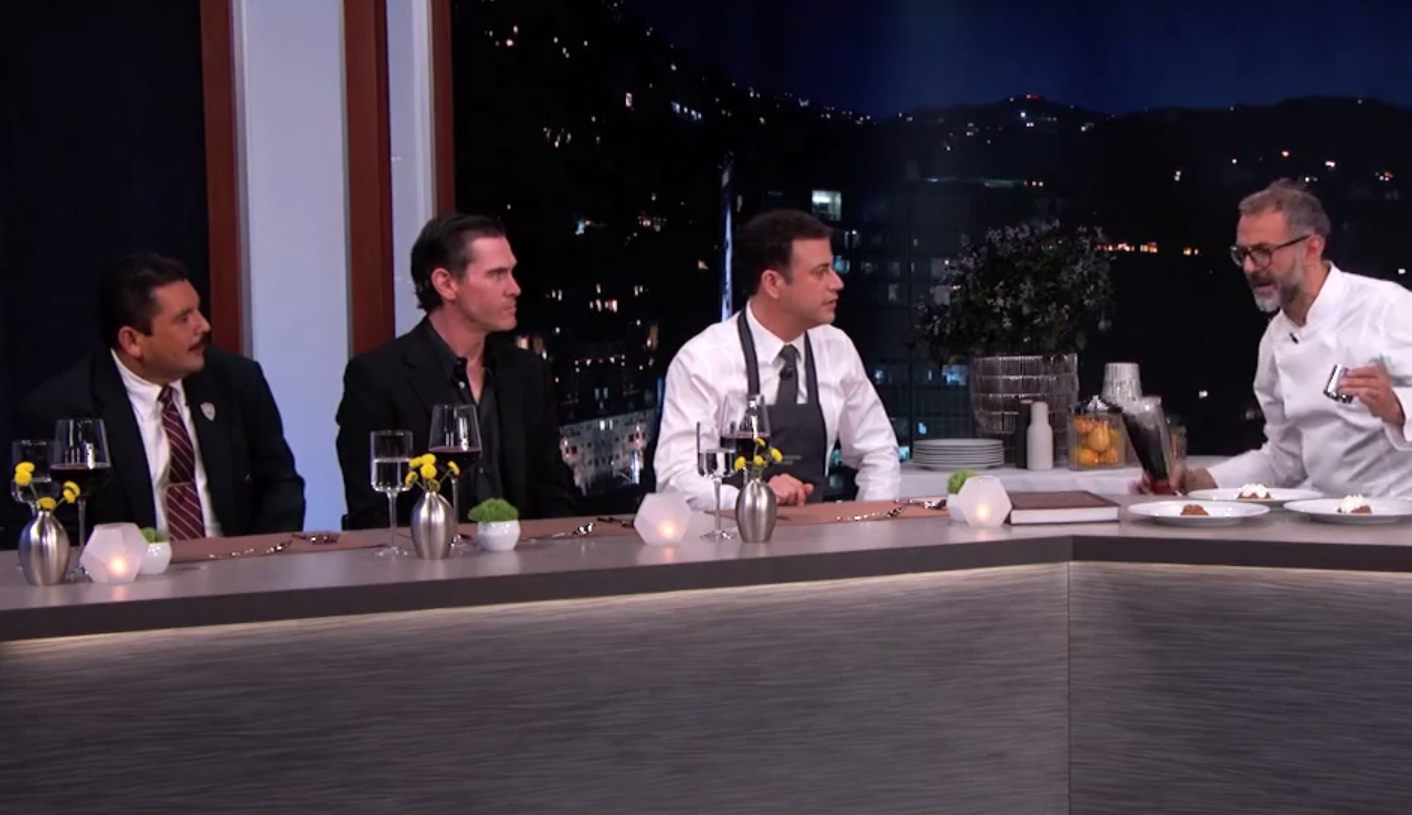 Explaining his birthplace Massimo described Modena as "where there is slow food and fast cars!" to which Kimmel retorted, at Guillermo's expense, "He's from Mexico where they have slow cars and fast food."
Nevertheless, all guests delighted in both this serving, and the following courses, The Crunchy Part of the Lasagna and Oops I Dropped The Lemon Tart.
Bottura followed the appearance with a meal and talk at Los Angeles' Chi SPACCA restaurant. Find out more about Bottura's on-going US tour here, and buy a copy of Never Trust a Skinny Italian Chef, which includes all the recipes from last night's show, here.
Meanwhile, Massimo is launching his own burger at the original Shake Shack in New York City's Madison Square Park for next Monday's Columbus day celebrations.
Shake Shack's limited edition burger—The Emilia ($8.95), named after the Emilia-Romagna region of Italy—was crafted by Massimo and Shake Shack culinary director Mark Rosati.
It features a custom-blend Pat LaFrieda beef patty ground with parmigiano reggiano, topped with cotechino sausage, salsa verde and Villa Manodori balsamic mayonnaise made with Chef Bottura's Villa Manodori Artigianale balsamic vinegar from Trebbiano grapes grown in Italy. And here it is below!