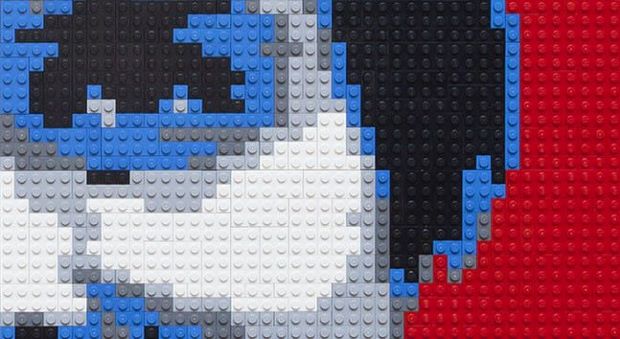 First look at Ai Weiwei's new Alcatraz show
A million Lego bricks, Edward Snowden and Native American recordings all feature in a powerful show
There are no ancient pots. There isn't a single bicycle wheel in sight. Indeed there is precious little in the works on show at Ai Weiwei's exhibition, @Large, which opens on Saturday inside the former prison on Alctatraz in the San Francisco Bay, to remind us of previous pieces. Little, of course, beyond its recurring theme of freedom and incarceration. The artist's 81-day imprisonment in 2011 has only sharpened his didactic focus, without blunting his aesthetic sense, as these seven new pieces make plain. Here's what to expect.
With Wind This huge Chinese dragon kite bears a quote from Edward Snowden - '...privacy is a function of liberty' – and has Twitter logos for eyes. It's hardly the most enigmatic work of art. Yet it and the other kites that form part of this display- each representing a different oppressive regime - were created by a group of Chinese artisans, and are being displayed in the prison's New Industries Building, a workshop area once reserved for privileged prisoners. They speak to themes of distributed labour, tradition, our interconnectedness, as well as the possibility of liberation.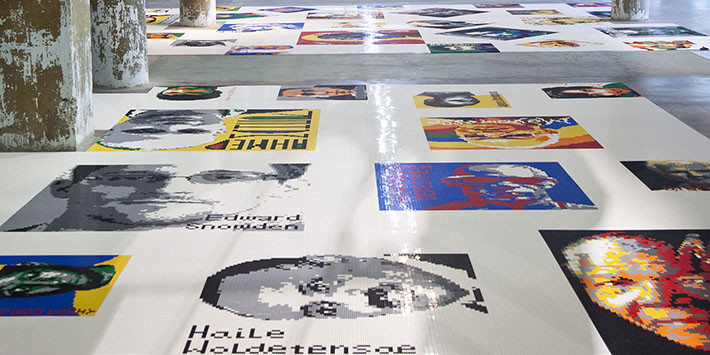 Trace On the floor elsewhere in the New Industries Building lie 176 portraits of people who have been imprisoned or exiled around the world. They've been fashioned from around 1.2 million Lego bricks. Nelson Mandela, Edward Snowden and Ai himself all feature in the display. Human Rights Watch furnished the artist with a list of names. Some pictures were assembled in the artist's own studio, while others were put together in San Francisco by a team of 80 volunteers.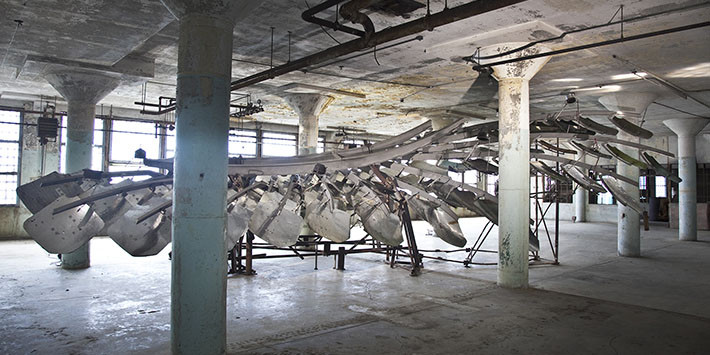 Refraction This huge metal model of a bird's wing can only be viewed from the New Industries Building's Lower Gun Gallery, where armed guards once surveyed prisoners at work. The five-ton sculpture is constructed in part from the discarded reflective panels once used in Tibetan solar cookers. Like the disputed region, it doesn't look as if Refraction is going to be free any time soon.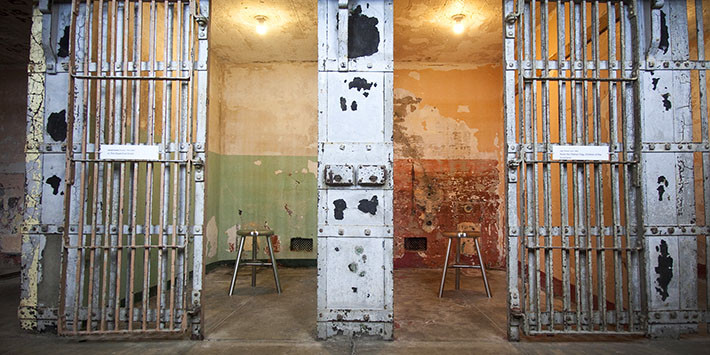 Stay Tuned An audio installation is fitted into Block A, one of the oldest and most austere cell blocks in the prison. Here, Ai and his collaborators have furnished 12 cells with playback facilities, allowing visitors to listen to a variety of prose, poetry and music made by people who have been detained for creatively expressing their beliefs. Pussy Riot, Robben Island prisoners and a Tibetan singer all feature. From the 27th you'll be able to hear some of the recordings via the exhibition's website, here.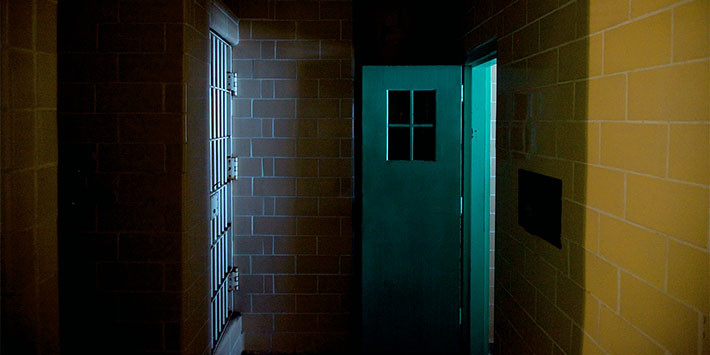 Illumination In a psychiatric observation room within the prison's hospital, the artist has had another pair of sound recordings installed. These, respectively, play Tibetan Buddhist and Native American chants. Both were chosen for their healing, calming properties, yet the chants also allude to some of the prison's early detainees: Hopi men held for refusing to send their children to government boarding schools in the late 19th century. Is Ai suggesting there's some equivalence between the treatment of the native peoples of North America, and the Tibetans under Chinese rule?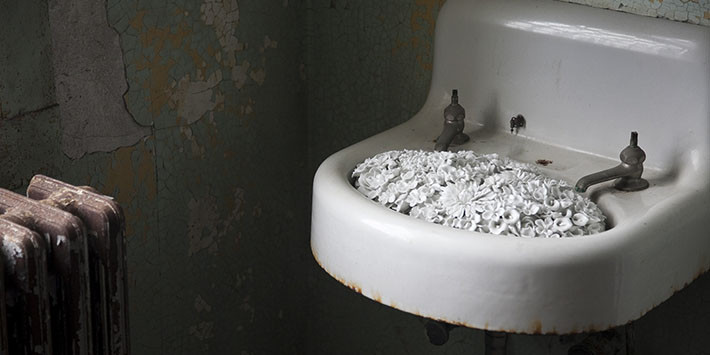 Blossom This final installation the prison hospital is probably the most characteristic of Ai's new works. Here the sinks, toilets and bathtubs are filled with porcelain flowers. Of course, he's worked with traditional Chinese porcelain before, and flowers feature in Ai's ongoing protest outside his Beijing compound, where he placed a bouquet in an abandoned bike's basket. Yet the show's organisers also suggest Blossom might recall the One Hundred Flowers campaign of 1956, when the Chinese Communist Party briefly encouraged free political expression.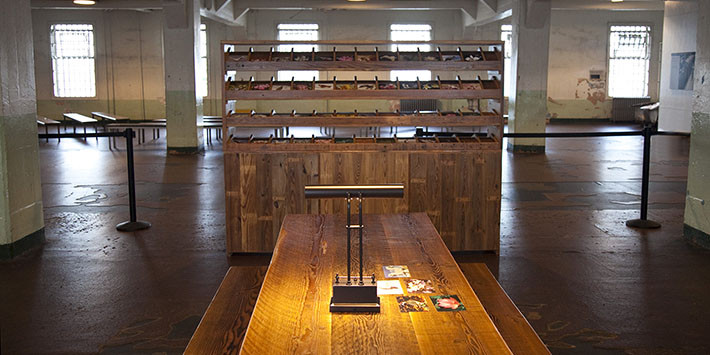 Yours Truly This last installation shades from artistry into activism. In the prison's old dining hall, visitors are presented with the opportunity to write postcards to some of the detainees represented in Trace. The cards carry images of birds and plants native to the nations where the prisoners are being held. The Cards are gathered and mailed by the exhibition's staff. Although Ai is no longer in prison, his picture does feature in Trace, so perhaps you could write to him?
It's a great show, and is free for all those holding a conventional Alcatraz visitors ticket from 27 Sept until 26 April.
For a richer understanding of Ai Weiwei please also consider a copy of our monograph, the first published on the artist, and still an authoritative study of his work.