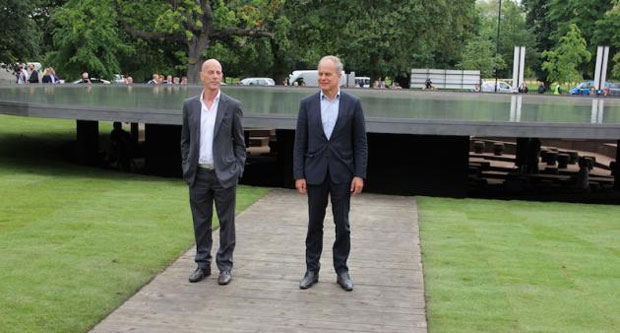 Ai Weiwei and Herzog & de Meuron's pavilion opens
Architects talk about creating a structure over Skype and why 'everybody loves cork' at London launch
The first thing one notices on the approach to Ai Weiwei and Herzog & de Meuron's Serpentine Pavilion, unveiled last night, is the overwhelming smell of cork. The entire seating area of the structure is given over to the stuff and it makes for a very unusual visual and olfactory experience.
Despite this year's pavilion being rooted in the idea of memory – it references previous pavilion designs by Zaha Hadid, Toyo Ito and Cecil Balmond, Oscar Niemeyer, and Frank Gehry - there are no apparent ruins in evidence beneath it. Instead the collaborators have overlain plans of earlier pavilions on the cork floor and raised elements of these plans up from it. Zaha Hadid's first Pavilion plan from 2000 is at the bottom.
"So many pavilions in so many different shapes and out of so many different materials have been conceived and built," Jacques Herzog, said at the opening. "that we tried instinctively to sidestep the unavoidable problem of creating an object, a concrete shape."
Herzog said he was pleased with the result given they only had a few weeks to get it up. "Sometimes small works require as much energy on the part of the designers and creators as large works and for us it has always been very important that we work on different scales."
The pair communicated with Ai Weiwei, not present at last night's opening due to the Chinese authorities refusal to allow him to travel, by Skype during the creative process. "Working via Skype is not ideal but because we have such a friendship we can do it and it felt good," Herzog said.
The circular structure features two levels, a steel roof with a shallow layer of water to reflect the sky and the pattern of former pavilions at the site. "It's nice that we can reflect the sky of London, which is so lively!" Herzog said. And why so much cork we asked? "It smells good. It's soft, everybody loves cork. And it adds to the idea of past," he replied.