Is smashing Ai Weiwei's vase a valid artistic protest?
A 52-year-old artist broke one of Ai's Colored Vases at the Pérez Art Museum to highlight the lack of local shows
Destructive art protests are rarely as effective as their perpetrators would hope them to be. Nearly eighteen months after Wlodzimierz Umaniec defaced a Mark Rothko canvas, Yellowism, the art movement Umaniec hoped to popularise, is as obscure as ever. Today, Picasso's painting Guernica remains a savage evocation of modern warfare, yet how many recall the artist and art dealer Tony Shafrazi's 1974 defacement, carried out in protest at the My Lai massacre?
Perhaps the destroyed work, Hubert Langzinger's The Standard Bearer (1934 - 36), is a little more powerful. This celebratory portrait of Hitler was slashed by a US serviceman following the Allied victory and puncture just below the Nazi's eye is easily the work's best feature.
With this in mind, what should we make of Maximo Caminero's destruction of an Ai Weiwei vase at the Perez Art Museum on Sunday? Caminero, a 52-year-old artist born in the Dominican Republic, was charged with criminal mischief after smashing one of Ai's Colored Vases; Caminero says he picked up and dropped the work as a protest at Perez Art Museum Miami's failure to exhibit work by local artists.
Of course Caminero's destruction mirrors Ai's own work, Dropping a Han Dynasty Urn (1995), a blunt riposte to traditional Chinese conservatism. So, is Caminero's act equally valid?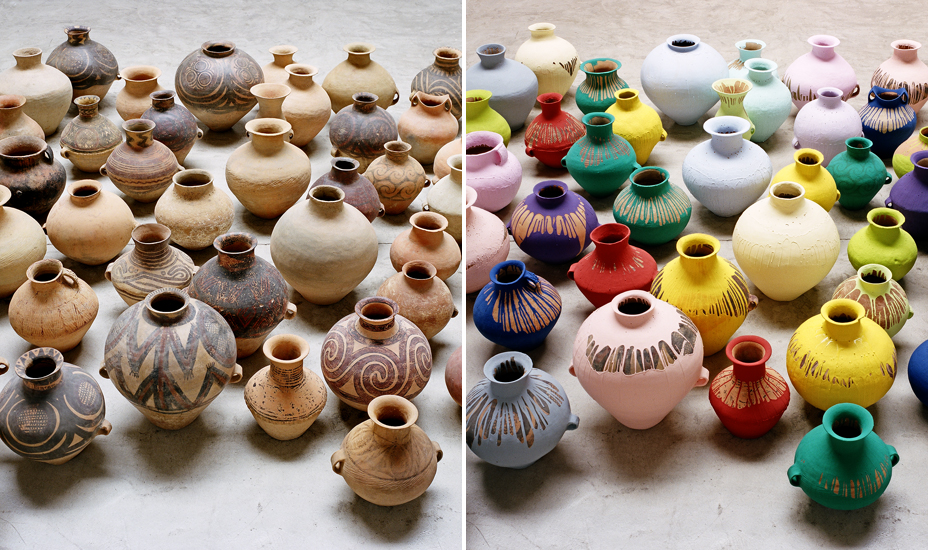 Not according to Ai. He told the BBC that his work is slightly different and Caminero's act does not properly support his argument; CNN reports that Ai admits the protest itself may be valid but "to damage somebody's work to do that is questionable."
Certainly the cause seems a little weak. According to his Artelista profile, Caminero has had a good run of exhibitions, both locally and abroad, while the Perez Art Museum appears to be moderately supportive of the local art scene. Meanwhile, the act itself feels almost immaterial; the loss of this single piece from a series doesn't seem to diminish Ai's body of work a great deal. The show, Ai Weiwei: According to What remains open until 16 March, albeit one vase short.
For more on this story, go here. And for a greater understanding of Ai's work, including dropped urns and all, pick up a copy of our monograph, the first published on this important artist.