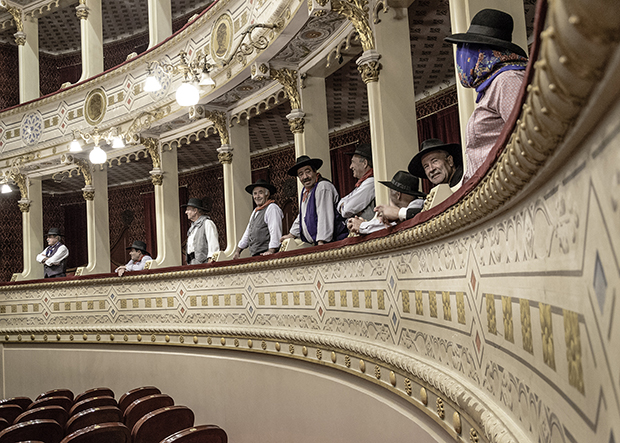 An award-winning photo taken by a 15-year-old
This bright young Sony World Photography Award winner finds a new way of showing her national cultural heritage
Aged just 15, Beatriz Mota da Rocha is among the youngest of this year's Sony World Photography Award winners. Nevertheless, her winning picture, which was placed first in the Youth Culture category, shows a remarkable sensitivity towards her nation's heritage.
The young Portuguese photographer took the picture in her hometown of Évora, southern Portugal; it brings together two aspects of her nation's culture. The men in the shot belong to a traditional Cante Alentejano singing group, a musical practice protected by UNESCO's Intangible Cultural Heritage Lists.
The setting meanwhile, is the town's sumptuous Teatro Garcia de Resende, a beautiful nineteenth century theatre, that lies at the heart of this ancient town, which is also a UNESCO World Heritage Site.
Despite her deft treatment of these subjects, Rocha doesn't restrict herself to her immediate surroundings, and has shot images in the Auschwitz concentration camp museum, and is also working on a series of nudes. Read on to learn more about this bright young talent.
How did you get into photography? I started photographing when I was very young, but started seriously at the age of 13; that was when I got my first camera, a Nikon D3000. I like to shoot a little bit of everything. I learned the basic things with my father [an amateur photographer], and through my own experience, more recently I´ve attended some workshops.
What kind of photos are you drawn to taking? I want to show images that make people think about what they are seeing – shoot things that challenge traditional habits.
What are you currently working on? Right now I trying to show my first solo exhibition, and I´m preparing a new project that involves photos of female nudes.
For more on the awards go here, and for a greater appreciation of photography buy a copy of The Photography Book, here.