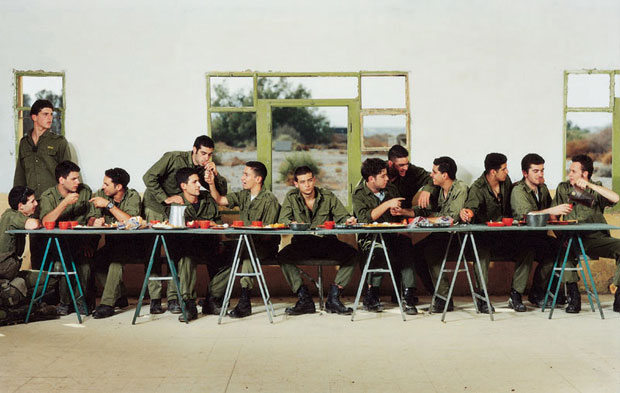 Adi Nes on masculinity, sexuality and war
The Israeli photographer explores identity, sexuality and conflict in a staged, polished style
Yesterday we brought you the work of Iraqi artist Ahmed Alsoudani whose paintings were partly inspired by his experiences of war in the Gulf as a child. Someone whose work comes from a similar experience but looks at conflict in a very different way is Isreaeli photographer Adi Nes.
Nes creates cinematic images that reference war, sexuality, life, and death with the kind of stylised polish you might expect from a photographer whose images have appeared in the pages of Vogue Hommes. His partially autobiographical work is deliberate and staged in an attempt to raise questions about sexuality, masculinity and identity in Israeli culture. "The beginning point of my art is who I am," he says. "Since I'm a man and I'm an Israeli, I deal with issues of identity with 'Israeli-ness' and masculinity, but my photographs are multi-layered."
He has his first ever Canadian show, in Toronto, this month at the Scotiabank Contact Photography Festival. It includes the most notable photos from his series Soldiers, Boys, and Biblical Stories, which includes the iconic Untitled (The Last Supper Before Going Out to Battle). Soldiers has been criticised for its homoeroticism. The Last Supper references Leonardo da Vinci's famous painting with the apostles replaced by Israeli soldiers. It featured on the New York Times' front cover in May 2008 and prints have sold in Sotheby's for between $102,000 and $264,000.
Commenting on it Nes has said: "I thought since everything is staged, I will cast for the pictures boy-like faces, childlike faces and light them with very romantic and soft light because I wanted to show how much they're fragile, and to show the person behind and under the uniform."
"The challenge of the photographer is to catch the viewer for more than one second in front of the picture", says Nes, explaning his provocative images. "If you catch the viewer in front of the picture, it can touch the viewer." You can watch Adi Nes explaining some of the ideas behind his work in this Museum of Contemporary Photography, Chicago video.