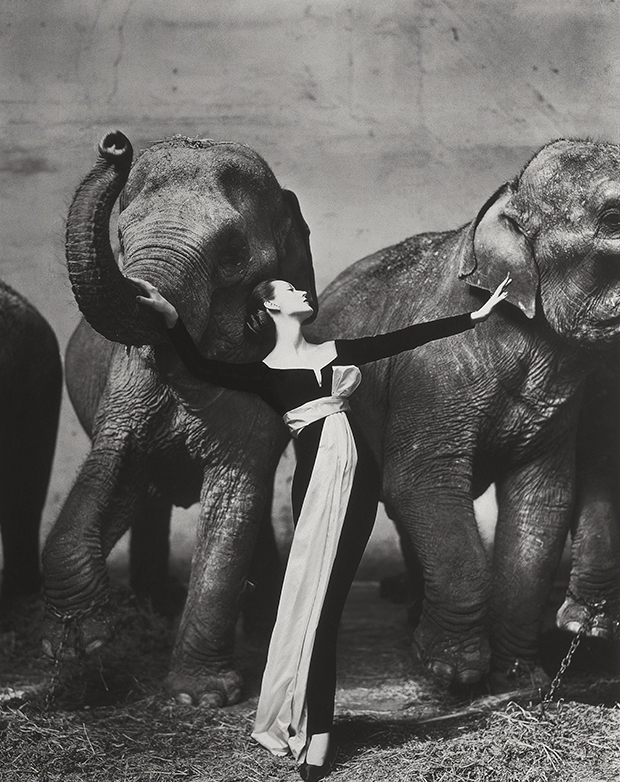 Photos that changed the world #4 Dovima
Richard Avedon's 1955 photo took fashion out of the studio and sought to capture age as much as youthful beauty
As we further expand our fashion list it seems like an opportune moment to take a look at the fashion photography of Richard Avedon, specifically Dovima with Elephants, his infamous fashion photograph taken in Paris in August 1955.
Why place a model wearing a Dior dress between a brace of circus elephants you might ask? Because the contrast is a striking one and prompts ideas of Beauty and the Beast we would answer.
Yet there is more to this picture than that. The model may be everything you would expect in terms of youth and elegance; taken in August 1955 in Paris to showcase Christian Dior's latest collection, Avedon used one of Vogue's highest paid models, Dovima - (born Dorothy Virginia Margaret Juba, she created her model name from the first two initials of her three given names).
However, look closer and you'll see that the fundamental subject, as in all of Avedon's art, is old age and its stresses - as represented by the mournful and wrinkled elephants.
The dress that Dovima is wearing is elegant, yet your eye is still not detracted from the elephants. The dress acts as the focal point of the photo while also fading away to the background.
The chains around the elephants feet hint at an idea of a reduced life. Avedon was to return again and again to this idea. His Portraits series of 1976, for instance, ends with his father gradually ageing until he seems to have been assimilated into the light around him.
Likewise, in his greatest work, The American West (taken over five years in the early 1980s and published in 1985), a collection of portraits sets out the variety of damages to which flesh is prone, while either engaged in dangerous occupations or just existing.
Avedon worked in a wide range of different areas, but it was for his fashion photographs that he was best known. Until Dovima with Elephants pretty much all fashion photography had taken place in the studio. Such was its impact that in the following years most fashion photography would take place anywhere but.
We hope you've enjoyed this edited extract from our new book. You can read previous entries in this series on Weegee, Ansel Adams and Eadweard Muybridge; and if you like what you've read, you can check out The Photography Book here.