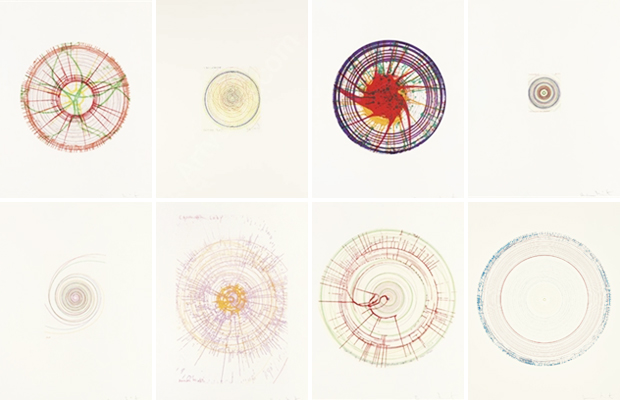 Suppose you bought a Damien Hirst and its value went down
Buyers 'In a spin' over new ruling
If you're new to the art market and are thinking about buying your first piece, take this as a salutary lesson. Some people who bought paintings from Damien Hirst's 2002 painting and print series In a Spin, the Action of the World on Things have found that a directive from Hirst's art-producing company, Science, has potentially eroded their value.
Science has ruled that the series, which consists of a wooden box, painting and accompanying prints, must, in future, be sold as a series rather than individual items, which, on the face of it, is fair enough as it's what the artist intended. But some people who've bought the painting individually before the ruling are now questioning the long-term value of their investment.
Philips de Pury auction house sold six of the paintings from the Hirst set individually - one for £73,250 in 2009 and another for £51,650 in June this year - prior to Science's ruling. Following the June auction, Science told Phillips they could no longer sell the works without the accompanying prints, pointing out that the work was a combination of painting and prints and should only be offered as such.
John Brandler, owner of a small gallery in Essex, owns three of the paintings - bought on the private market for what he told the Art Newspaper was a "significant sum". The current situation came to light when he tried to sell one of the paintings through Phillips de Pury and the gallery wouldn't accept it.
This kind of thing of course will come as no shock to the established art buyer but those dipping their toes in the water - tempted perhaps by the prospect of an 'affordable' Hirst - should beware. As ever, the advice is do your research and buy art because you love it, not because you think it's an investment.