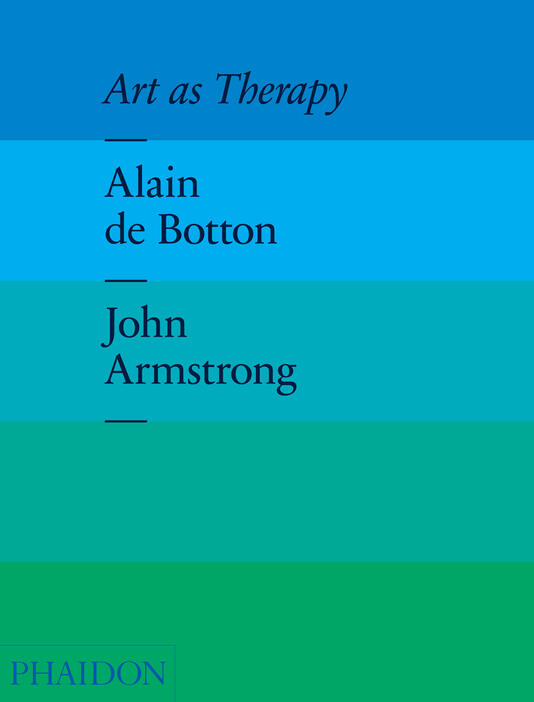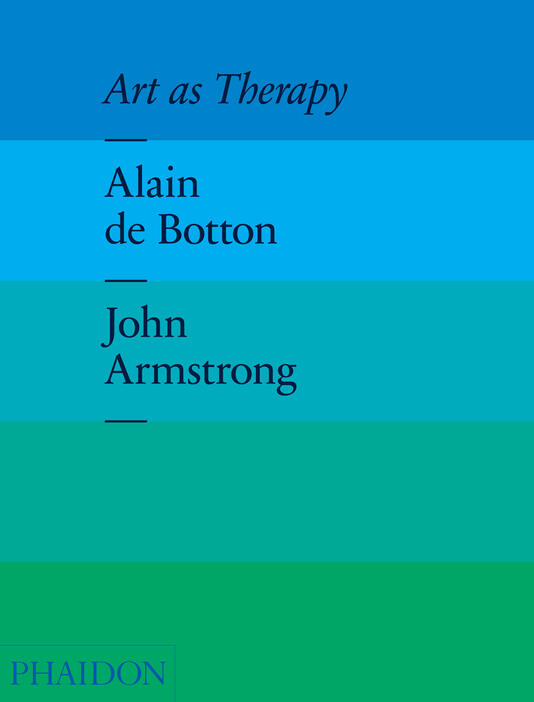 Art as Therapy
There is widespread agreement that art is 'very important' - but it can be remarkably hard to say quite why. Yet if art is to enjoy its privileges, it has to be able to demonstrate its relevance in understandable ways to the widest possible audience. Alain de Botton and John Armstrong have a firm belief that art can help us with our most intimate and ordinary dilemmas, asking: What can I do about the difficulties in my relationships? Why is my work not more satisfying? Why do other people seem to have a more glamorous life? Why is politics so depressing?
The purpose of this book is to introduce a new method of interpreting art: art as a form of therapy. It's the authors' contention that certain art works provide powerful solutions to our problems, but that in order for this potential to be released, the audience's attention has to be directed towards it in a new way (which they demonstrate), rather than towards the more normal historical or stylistic concerns with which art books and museum captions are traditionally associated.
The authors propose that the squeamish belief that art should be 'for art's sake' has unnecessarily held back art from revealing its latent therapeutic potential. This book involves reframing and recontextualising a series of art works from across the ages and genres, so that they can be approached as tools for the resolution of difficult issues in individual life.
Specifications:
Format: Hardback
Size: 270 × 205 mm (10 5/8 × 8 1/8 in)
Pages: 240 pp
Illustrations: 150 illustrations
ISBN: 9780714865911
Alain de Botton (b.1969) is the author of bestselling books in more than 30 countries, including The Consolations of Philosophy, How Proust Can Change Your Life, Status Anxiety, and, most recently, Religion for Atheists. He founded The School of Life in London in 2008, which supplies good ideas for everyday life in the form of courses, classes, workshops and talks. In 2009 he founded Living Architecture, which aims to make high-quality architecture accessible to everyone.
John Armstrong (b.1966) is a British philosopher and art historian based at Melbourne University. He is the author of five well-received books, including The Intimate Philosophy of Art, Conditions of Love: The Philosophy of Intimacy, and In Search of Civilisation: Remaking a Tarnished Idea.
"A highly optimistic vision... Roams widely through subjects as immense as love, nature, money and politics. De Botton and Armstrong's examination of love is most rewarding."—Royal Academy of Arts
"Asking the questions that always swirl through your mind when striding around Tate Modern [...] Art as Therapy [...] massages the mind in all the right places."—Vanity Fair on Art
"...Like going back to college, but in a good way... A little bit like dipping in to a modern day Gombrich albeit through the eyes of Oprah... A really entertaining and thought-provoking look at the role that art plays – or could play – in our lives. [...] Part philosophy, part art history, the book takes work that is considered by many to be lofty and rarified, and relates it to our everyday lives. [Art as Therapy] makes the reader consider the work far more intensely and deeply than perhaps we otherwise would."—A Little Bird
"A true meditation on the power art has to transform our lives."—The Mayfair Magazine<
"The beautifully designed and illustrated book, Art as Therapy argues for a new way of using art to help us with a variety of psychological ills."—The School of Life
"A cultural cure for what ails you."—Elle