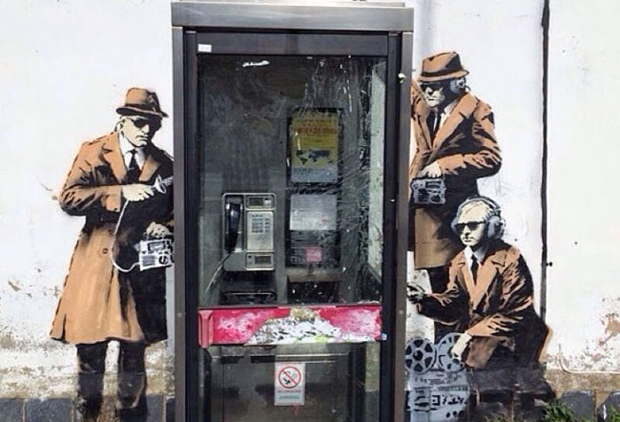 Banksy attacks surveillance culture with new mural
Street artist on top of the news cycle as ever with new street work and mysterious facebook posting
The corner of Fairview Road and Hewlett Road in Cheltenham, UK is just under an hour's drive from the British city of Bristol. Robin Gunnningham, a Bristol resident, posted images of fresh graffiti work painted on this Cheltenham street corner accompanied by the comment, "It's wrong that the government are spying on us...complained the person who posts their every movement on Facebook and Twitter!", a full day before the UK published a photo and attributed the work to the world-famous graffiti artist, Banksy
Reporters have in the past suggested that Gunningham and Banksy are one and the same. From this light trail of evidence, can we intuit that this new painting, possibly lampooning the activities of Cheltenham's Government Communications Headquarters, GCHQ, is by Banksy?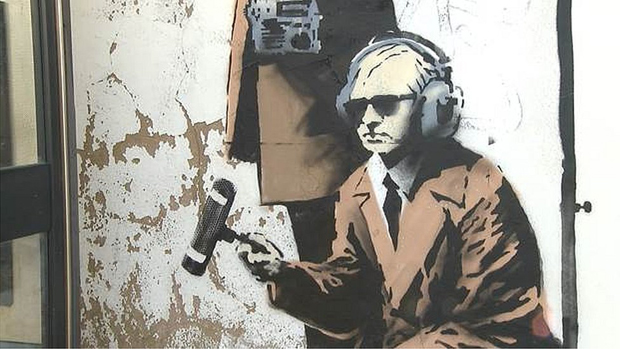 Perhaps. In any case, the phonebox work is a poppy comment on the Snowden affair, and certainly, if it were by Banksy, it would be in keeping with the artist's bold political commentary - not to mention his novel use of street furniture. These images sit alongside other new and more easily verifiable Banksy pieces, posted at both Banksy.co.uk and on Gunningham's Facebook profile.
As usual, it's unclear where the two embracing lovers, each transfixed by their phone screens, is painted and whether it will be the next Banksy to be discovered. Yet it's a smart accompaniment to the Cheltenham Spooks work; taken together, they make an aposite comment on how we square the communication possibilities afforded by evolving technology with the impact of those possibilities - both good and bad - on us as humans.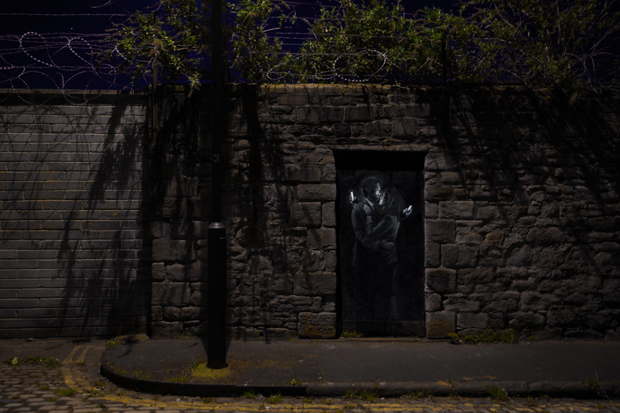 If you're interested in art made outside the gallery system you should read this interview with the editor of our recently published Wild Art book here. The book will certainly challenge the opinions you have on art - any kind of art - and features a rather telling quote from Banksy: "Graffitti is not the lowest form of art. It's actually the most honest art form available. There is not elitism or hype. It exhibits on some of the best walls a town has to offer and nobody is put off by the price of admission."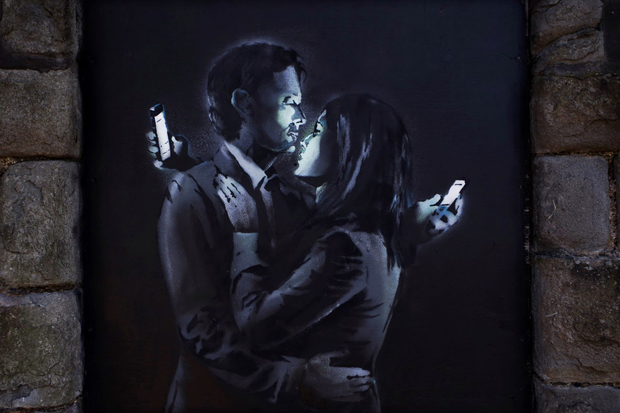 While you're in the online store, check out our books on Fashion and Culture which take in our Japanese street culture books which were recommended by Martin Parr and Gerry Badger (co-authors of our wonderful new Photobook III) in this recent interview.