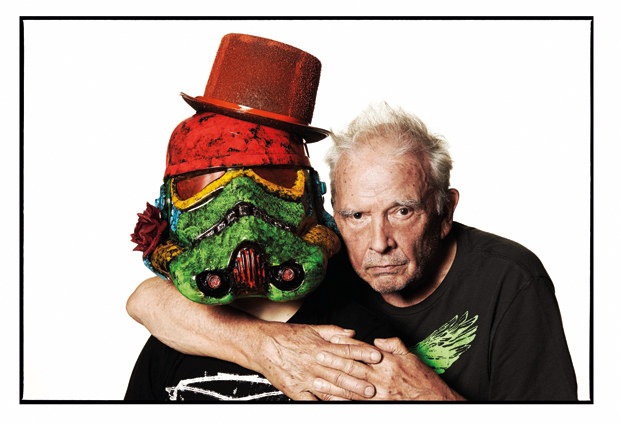 Hirst and the Chapmans take on Stormtroopers
David Bailey, Antony Micallef and other creatives reinterpret the iconic Star Wars helmet
Cinema often throws up some great artistic partnerships. Pablo Picasso appears in Jean Cocteau's The Testament of Orpheus; Jenny Holzer made the works for Jodie Foster's distinctly Holzer-esque character in Dennis Hopper's 1990 film Catchfire; and Damien Hirst served as 'art curator' on the 2009 British art world satire, Boogie Woogie.
Yet on occasion, Hollywood blockbusters are elevated to high-art status. Last year, the American cultural commentator Camille Paglia declared Star Wars: Episode III - Revenge of the Sith (2005), greater than any contemporary artwork, and that George Lucas is our greatest living artist.
Now contemporary artists - Hirst included - get a shot at one of Lucas' better-known images, when they leave their mark on a set of Stormtrooper helmets. Or rather, Stormtrooper helmets produced by the British industrial designer, Andrew Ainsworth, who made the original helmets.
Ainsworth is working with the British artist, missing-persons campaigner and curator Ben Moore, to commission a range or artistically rendered Stormtrooper helmets from artists such as Damien Hirst, Jake and Dinos Chapman and Antony Micallef, to be shown at The Saatchi Gallery in London, 9 - 13 of October, during Frieze Week.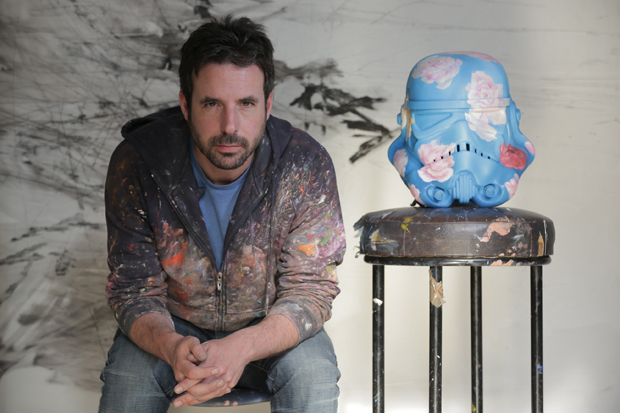 As Moore explained to Phaidion.com, the project, Art Wars, began in 2007, when Moore, who had been running a public art initiative on the London Underground while simultaneously searching for his elder brother, Tom, met Ainsworth. Moore understood the helmet's appeal immediately, and began introducing it into a fine-art setting. "We all grew up with that film," Moore says of the helmet's appeal, "even if you were a teenager in 1977, when the film was released, you're still a fan."
Over the past few years, Moore has worked with Ainsworth, raising money for his Missing Tom Fund, which funds an ongoing search for Moore's Brother. Moore says that most artists he approached came back with a positive response quite swiftly. "I found that people like the Chapman Bros were very quick to say yes," he explains. Though he's yet to receive finished artworks from Hirst or the Chapmans, he is pleased with the third or so of the submissions he's received so far. In particular he likes Antony Micallef's helmet. "The flowers are so delicate," Moore says, "he's obviously put a lot of time and care into this."
And, with such fine reinterpretations of film props hanging around, Moore has, so far, resisted the urge to try a few on. "You don't want to risk devaluing them like that," he says. Find out more about the exhibition, which forms part of the Strata Art Fair, here. For further insight into George Lucas's oeuvre, consider our Masters of Cinema book on the director, and for more on art outside the gallery system, consider our new Wild Art book and for Antony Micallef's Phaidon Muse Music click here. And if you want to know more about David Bailey. . .