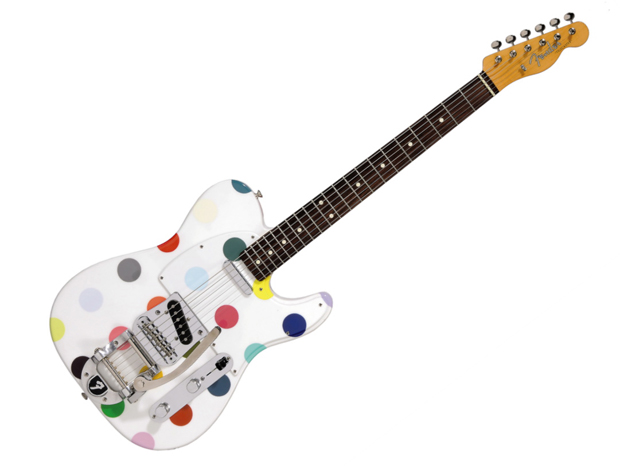 Win a Hirst Guitar
Two Damien Hirst guitars are to be raffled next month
Two guitars customised by Damien Hirst are to be raffled to raise money for Strummerville, the music charity founded in honour of The Clash's singer, Joe Strummer. The instruments, a spot Fender Telecaster and a spin Eastwood acoustic, have been produced by Hirst to commemorate the 10th anniversary of Strummer's death.
In a statement, Hirst said: "I love Strummerville and have supported it since it started ten years ago as it gives kids and adults the opportunity and platform to create and record music for a wider audience. I hope that by donating these two guitars much needed funds can be raised to help carry on supporting the brilliant work they do."
Though Strummerville haven't issued a resale value for the Hirst guitars, a similar spot Telecaster was auctioned for £30,000 at Christies last year. So, perhaps it's worth a punt.
Tickets for the raffle can be bought online for £20 until 16 August, and at the Strummer of Love festival in Somerset for £10, 17-19 August. The winning ticket will be drawn by Strummer's erstwhile bandmate Mick Jones on at the festival on Sunday, August 19th.