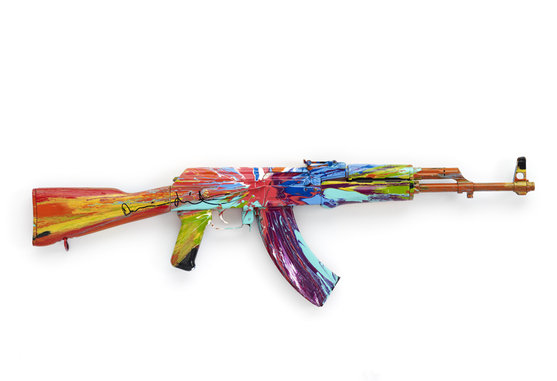 Damien Hirst's AK47 artwork up for sale
Hirst's peace artwork for Jake and Dinos Chapman goes under the hammer at Phillips de Pury next month
Damien Hirst's spin painting of an AK47 gun, created for Peace Day last Friday is to be auctioned off next month. Curated by Jake Chapman in collaboration with Peace One Day, a number of artists including Mat Collishaw, Jeremy Deller, Nancy Fouts, Ryan Gander, Douglas Gordon, Antony Gormley and Gary Hume were invited to offer their re-interpretation of an AK-47 – one of the most internationally recognised weapons. Their commission was to 'recast a weapon of devastation as a conduit to peace.'
Winner of the 2011 Amnesty International Media Award, the photographer Bran Symondson conceived the idea for AKA Peace following his experience as a soldier in Afghanistan. The project aims to raise funds for Peace One Day's Global Truce 2013 campaign.
The exhibition will take place from September 26 – 30 at the ICA, London, to be directly followed by an auction of the exhibited works held by Phillips de Pury & Company at Howick Place, London SW1P 1BB on October 4.
Other featured artists include: Charming Baker, Jake & Dinos Chapman, MJim Lambie, Langlands & Bell, Sarah Lucas, Antony Micallef, Harland Miller, Tim Noble & Sue Webster, Marc Quinn, Stuart Semple, Laila Shawa, Bran Symondson, SamTaylor-Wood, Gavin Turk and Rebecca Warren.