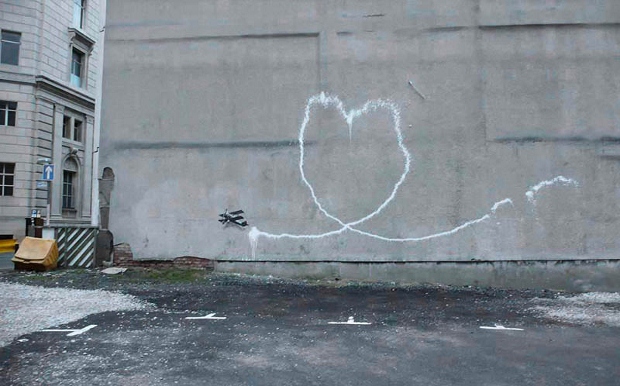 Banksy walls on their way to Miami
Art Miami's fringe pavilion, CONTEXT, will show four Banksy walls, ripped from their original street location
CONTEXT, the fringe gallery event at this year's Art Miami (4 – 9 Dec), says it's dedicated to the newer end of the market, yet it clearly likes a big name as much as anyone else. This year, they're shipping in four walls – weighing a total of six-and-a-half tons, each decorated with a piece of graffiti that the organisers say was sprayed by Bristolian art star, Banksy.
As we've outlined in the past, the removal and display of graffiti-covered walls for gallery purposes is a difficult business. Few street artists approve of the practice, and fewer still are willing to authenticate such works, as authentication could, in theory, lead to the artist's prosecution.
Works in CONTEXT's show, dubbed "Banksy Out of CONTEXT", are from a private collection and won't be available for purchase. Instead, the organisers say they hope the display will spur "ongoing debate about the ethics and importance of showing 'site-specific' street art outside of its original context." And, of course, attract causal visitors in to CONTEXT's 45,000 square-foot pavilion directly adjacent to Art Miami.