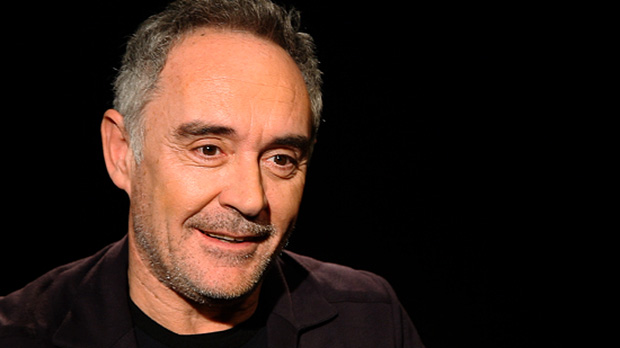 How good a cook was Ferran Adrià's mother?
The elBulli founder tells Time magazine about his mother's talents, his rules for anarchy, and how animals cook
Ferran Adrià's latest interview in the current issue of Time magazine throws up more than a handful of interesting quotes from the great man - some serious, some less so. Ferran is on familiar ground when describing his work with the elBulli Foundation which he paraphrases ever so succinctly thus: "The Challenge at elBulli was to create plates. Now it's to create those who create plates."
He's more forthcoming when asked about the creative audit of elBulli he recently put together and what he learned about himself and his creative talents along the way. "Everything. It's changed everything. It's given me a way to look at the genome of gastronomy and reflect on it," Ferran says. "Honey, for example: so simple, but where taxonomically would you place it? If people don't understand that honey is an elaboration that animals are cooking for you people will not understand the process of cooking."
And there's a wry element of humour when the interviewer, Belinda Luscombe, asks him about his mother's cooking. "Maybe there's one dish that your mother could do better than a professional cook," Ferran admits, "but it's logical to think that someone who does this for 14 hours a day is going to do a better job."
He also has some great insight, as always, into creativity when he says: "If I understand what I'm doing. I can create better. You can be anarchic only if you understand what's going on. If you don't, you're not going to have a long lifespan within that world. Creativity, if you're at the top level is brutal and relentless."
And finally, and (who knows) maybe with a nod to fellow Phaidon author Colman Andrews who writes about the subject of Turducken so eloquently in his book The Taste of America (in fact, you can hear him talk about it in one of his readings from the book here) when asked whether he's ever tried the three-in-one culinary creation himself, Ferran replies: "No, but there's no such thing as weird food. There's weird people."
Watch the Time video here, and for a richer understanding of this legendary chef, consider our books with Ferran, including the magesterial elBulli 2005-2011. Finally, learn more about turducken and The Taste of America here.