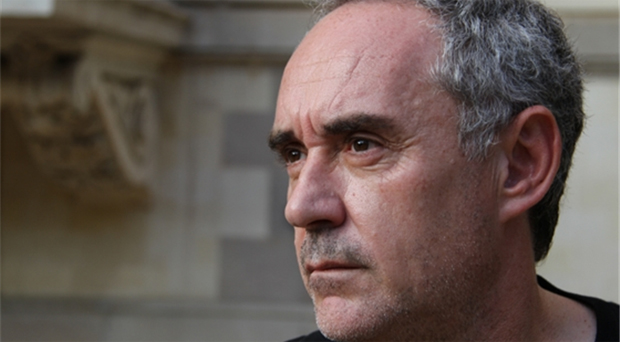 So where do you take Ferran Adrià for dinner?
Howard Chua-Eoan, former TIME magazine news director, on the NYC spots he's booked for the elBulli supremo
Like picking a wardrobe to wear to a fashion show, booking a table for a chef and his party is quite a test for any food lover. So pity (or should that be envy?) Howard Chua-Eoan, former news director at Time Magazine, who has booked no less than six tables for his friend, the former elBulli super chef Ferran Adrià.
As Chua-Eoan explains in this great post for the Roads and Kingdoms site, it is equal to the number of times he managed to dine at elBulli, so we shouldn't feel too sorry for him. However, the places he chose offer some insight into the kinds of restaurants favoured by gastronomy's greatest, not least because a couple of them are cited in our international dining guide - Where Chefs Eat.
Among the spots Chua-Eoan takes Ferran to is David Chang's informal fusion restaurant, Momofuku Ssäm Bar - as recommended in Where Chefs Eat by Michael Anthony (Gramercy Tavern), John Besh (August), Sean Brock (Husk), Andreas Dahlberg (Bastard), Wylie Dufresne (wd~50) and Benjamin Greeno (Momofuku Seiobo). The place was a hit, but then as Chua-Eoan observes, "How can anyone dislike a huge hunk of pork butt, with oysters and condiments on the side?"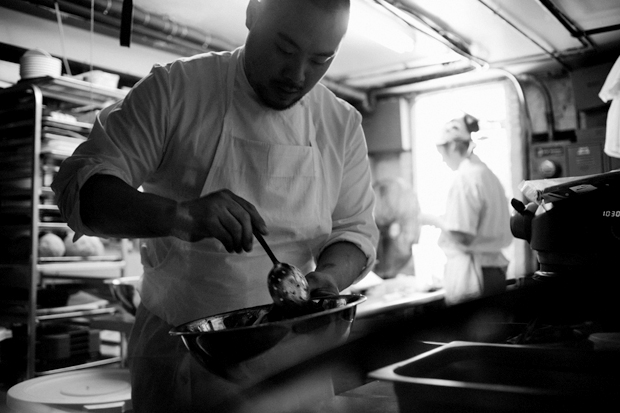 Chua-Eoan also picks the modern Chinese restaurant in Manhattan's West Village, Red Farm - also recommended by John Besh - where Ferran and friends "enjoyed the smart and tasty chinoiserie".
Adrià, Chua-Eoan and their party also ate out at Hanjan, the modern Korean restaurant, and Annisa, a contemporary American restaurant. All the places he names were a hit, though Chua-Eoan's account does offer some advice for those thinking of arranging a restaurant trip with the elBulli supremo.
"Think fast, as his request to eat can be quite sudden; try to find a place where you can sit for an extended period after dinner (Chinatown restaurateurs' habit of ushering patrons on after the final course was at odds with Ferran's love of post-prandial chat), and do weed out any overweening acolytes, since the great man likes conversation but not, as Chua-Eoan puts it, 'closetalkers'."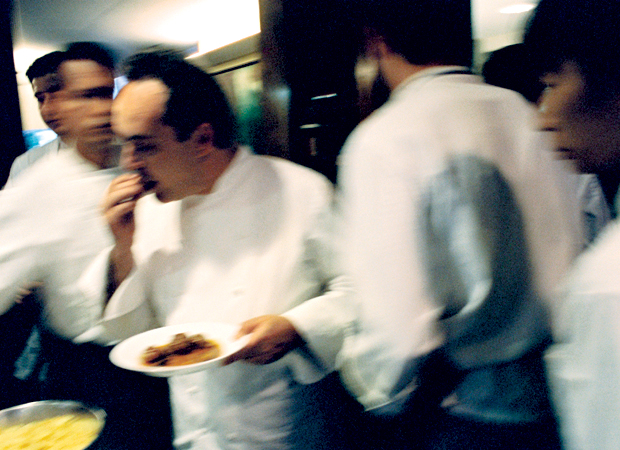 However, one advantage of dining out with Mr Adria is his ability to snag an elusive table. Chua-Eoan describes his own attempts to book a table at New York's Nobu: (the London incarnation of the Japanese restaurant empire was recommended in Where Chefs Eat) by Claudio Aprile (Colborne Lane), Atul Kochhar (Benares), Jerome Lorvellec (Matsuhisa), and Ricardo Zarate (Mo-Chica), while the Capetown Nobu gets Peter Tempelhoff's (The Greenhouse) approval).
Chua-Eoan tries calling the restaurant, and even mentions Adria's name, but to no avail. Thankfully, Adria had better connections, including Nobuyuki "Nobu" Matsuhisa's own number. A couple of phone calls later, a table is miraculously assigned to them. Proof that who you know beats what you know, when it comes to getting the most out of certain aspects of the New York culinary scene.
Read the full piece here. Take a look at our unparalleled selection of Ferran Adrià books here, and for greater insight into the places where you should take the world's greatest chefs - including some of Adrià's own suggestions - do take a look at our book and app, Where Chefs Eat.