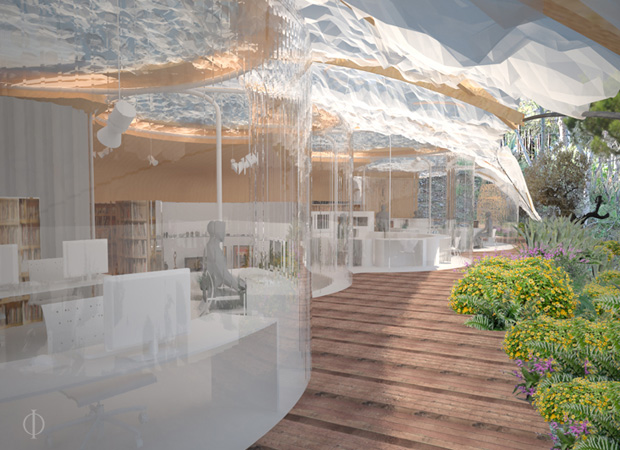 Revealed: What the elBulli Foundation will look like
Architect gives Phaidon sneak peak at Ferran Adrià's new ideas centre
On Monday we revealed that Ferran Adrià was teaming up with Barack Obama advisor Joseph Stiglitz for the new elBulli Foundation, his ideas and archive centre to be housed on the site of the now extinct restaurant.
Now Phaidon brings you the first look at the site plans for the foundation courtesy of the architect, Enric Ruiz-Geli of Cloud 9. It's a fittingly sci-fi mix of Eden Project and James Bond villain's lair, hippy idealism and 21st century technology.
The plans will transform the existing restaurant into the foundation HQ itself while the landscape surrounding it becomes a wi-fi zone of 'data clouds' enabled by Spanish communications giant Telefonica.
The natural stone and fauna of the area will play a big role - visually and ecologically - on the site. The façade of the service room will be covered in local plant life. With Telefonica, Ruiz-Geli plans to embed technology in the outer skin of the proposed, Brainstorming Movie Centre.
There will be an observatory with a partially buried entrance. The observatory design is inspired by coral, bone and limestone with holes to let in light or focus on special views of the sky, according to Ruiz-Geli.
'Thinking spaces' dotted around the complex will feature glass façades facing the sea and topped with translucent canopies. Ruiz-Geli's plans also include a diving board like structure called The Trampoline.
Adrià and his elBulli manager Julie Soler asked the architect to include 'experiences in special places' around the site. One of them, the Nido Experience, is a balcony made from the feathers of birds from Cap de Creus. A new concrete storage block will be built in the style of the actual elBulli restaurant. The architect says, "Every euro spent on the project will save the equivalent of 6 euros worth of energy."
The elBulli Foundation's main aim is to promote free thinking. One of the guidance notes to the architect reads: "We can aspire to teach how to think, to help in nurturing the imagination, given that the right attitude and mindset are what allow you to create in a positive and advantageous way."
Ruiz-Geli founded his Barcelona-based architectural practice in 1995. A former stage designer, he has created sets for Yoko Ono and Philip Glass in the past. His work is theatrical, and often experimental. The practice is constantly sourcing new materials and forms for its projects and looks to buildings as being moving and constantly evolving shapes, architecturally or technologically - seeing "architecture as life."
Phaidon is hosting a number of events with Ferran Adrià in the US and the UK in the coming weeks to coincide with the publication of his great new book, The Family Meal. Ferran will be talking about the book and revealing more about the Foundation at Vinopolis, London at 7pm on September 26. Tickets are £16 or £32 including a copy of the book. Call 020 78512419 to book.