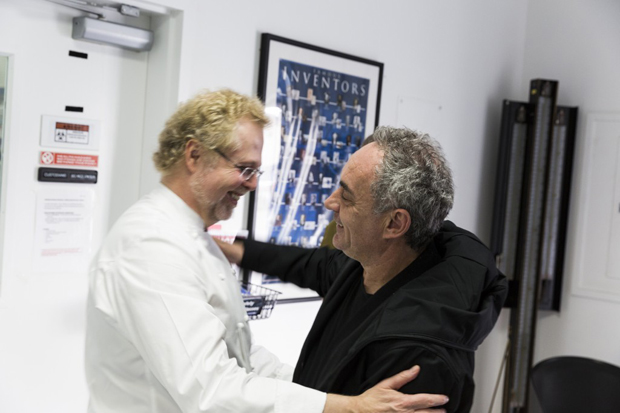 "My first spherified olive was a revelation!"
Modernist Cuisine's Nathan Myhrvold pays tribute to elBulli 2005-2011 creator Ferran Adrià - "a philosopher and avant-garde provocateur who can reference the history and future of gastronomy in a single bite"
There's a lovely testament to Ferran Adrià over on the Modernist Cusine site right now. In it, Modernist Cusine founder Nathan Myhrvold pays tribute to a man whose culinary creativity he describes as referencing the "history and future of gastronomy in a single bite".
As we previously reported (see story left) he was speaking back in March, when, as part of the book tour for elBulli 2005-2011 Ferran spent a day at the Modernist Cuisine Cooking Lab in Seattle, where, over the course of five hours, Mhyrvold and his culinary team constructed a nine segment, 50 course meal to honour the visiting chef.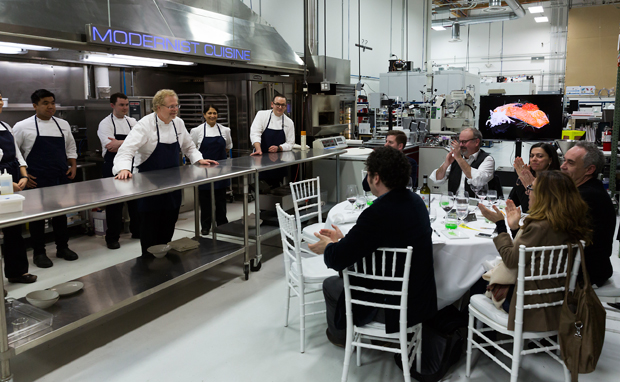 We've extracted a bit of Nathan's introduction below but for the whole thing head here. It really is a well-judged tribute and a fitting eulogy to the Spanish super chef. Meanwhile, if you're a Modernist Cuisine reader you'll be very interested in a special deal we have on the Ferran book in our store right now. You'll find that here and our other books with Ferran here. Meanwhile, here's a little of what Nathan said.
"Ferran Adrià is one of the most creative and influential chefs alive, but that isn't the entire story. He's also a philosopher and an avant-garde provocateur. From 1983 until it closed in 2011, elBulli was a fountain of tremendous creativity and stimulation, and it was often a source of controversy because of its techniques, approaches to food, and fine-dining philosophy. Ferran, along with the entire vanguard of chefs who pioneered Modernist cooking, played an influential role in the inspiration to write Modernist Cuisine, which covers science and technique but is also a testament to the power of food to be intellectual, emotional, and unpredictable.
"I had heard a great deal about elBulli—both the enormous praise and the debate over what Ferran was doing - well before ever eating there. Although I had already visited its sister restaurant in Barcelona, I was completely shocked when I finally experienced elBulli. Within three dishes, I was blown away. Why hadn't I eaten here sooner? The food was interesting, intellectual, and deeply profound. This statement sounds somewhat silly, but, in reality, what I was eating spoke to me in the most amazing way. My first spherified olive was a revelation.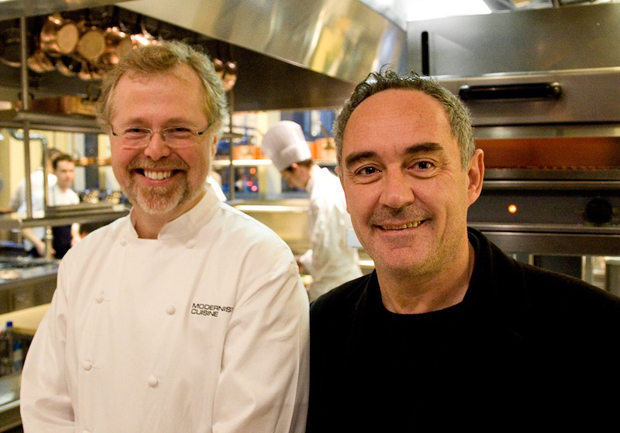 "Throughout the evening, it became apparent that what I found truly stunning was the enormous range of techniques, methods, and ingredients. In one course diners might be presented with something highly technical, quintessentially Modernist. The next would be insanely simple yet equally as imaginative. Immature pine nuts, harvested by breaking open green pinecones, were transformed into something entirely original. It's a simple, overlooked ingredient, but at elBulli it became tender risotto.
"Incredible moments of playful surprise were always expected, and yet unexpected, throughout the meal. I was served what I thought was a perfect, small baguette. It appeared to be entirely ordinary, but the first bite revealed the "bread" to be completely hollow. I then might discover that a heavy-looking item was actually a foam (essentially a wisp of air bound together by minuscule ingredients) in disguise.
"After experiencing elBulli, one can't help but wonder who Ferran is cooking for because his food works on so many levels at once. Dishes are not intended to simply showcase a new texture, flavor, or technique—they reference the history and future of gastronomy in a single bite. In many ways, the experience is akin to discovering the work of a truly prolific writer for the first time. A gifted writer can do something amazing with words, producing work that is polysemous, that is simultaneously evocative and provocative, reminding readers that words can be powerful. Ferran's food works the same way. A single dish at elBulli could be amazingly novel and unique, yet, on the same plate, allude to the familiar and classical: the neoteric pine nut risotto simultaneously celebrated this tradition. Understanding the history of gastronomy provided an even greater appreciation of what I was eating. These weren't just meals—they were servings of a deeply cherished philosophy.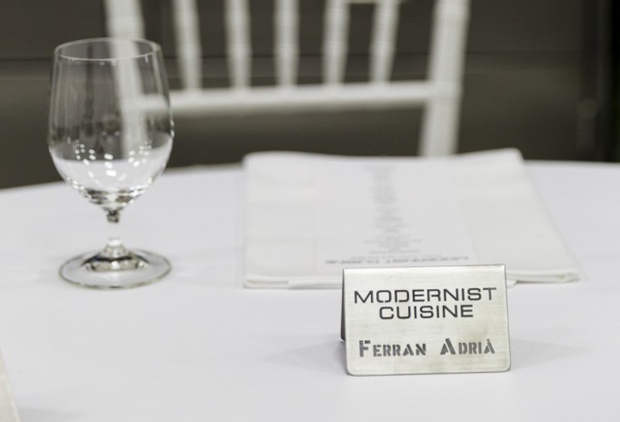 "Though elBulli is gone, now reincarnated into a series of exciting projects, we are certain Ferran Adrià will continue to drive the culinary world. Our team was thrilled to see his newest book, elBulli 2005–2011, an incredible masterpiece that not only captures the final seasons of elBulli but also the creative spirit of Ferran's restaurant. Of course, we were also rather amused when we placed Modernist Cuisine and elBulli 2005–2011 next to each other. With numerous volumes, both are heavy, to say the least, and must be contained within acrylic cases. The books, however, couldn't be more different.
Modernist Cuisine is an exploration of techniques employed across the world of cuisine—the contributions of 72 different chefs are found throughout our volumes. In contrast, Ferran's book is amazing because it's the singular vision of one chef, supported by a fantastic team. The intellectual evolution of his cuisine, a concept particularly important to Ferran, is covered in fascinating detail. Last fall we were thrilled when we got word that Ferran would be able to visit The Cooking Lab during his book tour. It would become an incredible opportunity to demonstrate how he has influenced what we do and the evolution of our food."