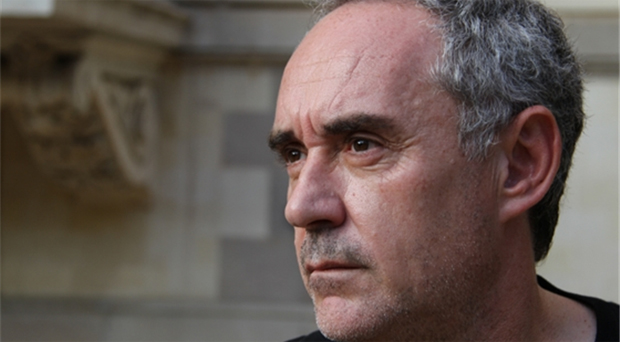 $36,750 - the price of dinner with Ferran Adrià
Anonymous online bidder snatches top lot in Sotheby's NY auction of elBulli wine list and assorted ephemera
Last week we asked you who wanted dinner with Ferran Adrià as items including wine, cutlery, chef jackets and assorted ephemera from the legendary elBulli restaurant went under the hammer at Sotheby's New York. One of the lots up for auction was dinner with the restaurant's legendary head chef, Ferran Adrià. Eight bidders fought for the experience with the successful bid going to an Asian buyer bidding online who paid $36,750. The dinner, which is for four people, works out at about $9,200 per person (or around $1.27 a second each if it's a two hour turnaround on the table).
In actual fact, the most expensive lot of the evening was four bottles of Romanée Conti 2004 signed by Adrià which fetched $52,062 - almost double the estimate. Other big bids included $10,412 for six bottles of the Spanish wine, Pingus 1995. A Laguiole knife collection sold for $6,125, while a signed Ferran Adrià chef jacket went for $3,063.
Sotheby's said that nearly half of the bids were from people who had never before taken part in its wine auctions. In total, close to a million dollars was raised for Ferran Adrià's elBulli Foundation - due to open on the site of the former restaurant next year. A similar sale in Hong Kong earlier in the month raised $1.8 million. If you're keen to find out more about this legendary chef Phaidon is the best place to start. You'll find our Ferran books in the store here and for more online content click here.